American Horror Story: Freak Show Gets A Lick-able New Trailer And A Great Guest Star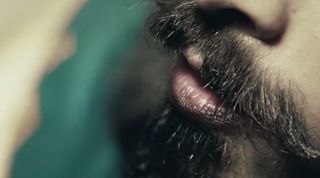 American Horror Story: Freak Show has a brand new teaser and a new guest star. The teaser you can enjoy in all of its lickable forked-tongue glory, and the guest star you can enjoy while watching USA's White Collar. Matt Bomer has signed on to play a part in AHS: Freak Show, the fourth season of the creepy FX horror series. Who's he playing? That part's a mystery.
First, the teaser. It begins innocently enough, with a close-up of a tongue licking a lollipop. Ok, maybe that's not so innocent at such close range. Regardless, it takes a turn for the weird when it becomes clear that the tongue is split at the tip.
The tongue teaser follows a previously released teaser, which clocked in at ten seconds and showed a taloned hand offering us a ticket to the next season of AHS. Season 4 will be set in the 1950s at a "freak show" in Florida.
Moving on to related news, as we mentioned, Matt Bomer has been lined up to guest star in American Horror Story: Freak Show. EW reported the news, and though the site shares no information on who Matt Bomer will play in the series, EW does note that that he's going to be in one episode and according to Ryan Murphy, the role is "warped." Given the nature of American Horror Story, that may not bode well for Bomer's character. I'm inclined to think of Adam Levine's brief turn on American Horror Story: Asylum. The musician appeared in three episodes of the FX horror drama, and well, we all know how things went for Leo Morrison. Will Bomer's character fare better in Freak Show?
Whether he's suited up for White Collar or suited down for Magic Mike, Matt Bomer's got talent, and American Horror Story's Ryan Murphy is well aware of that. Bomer worked with Murphy in the moving HBO TV movie The Normal Heart, and he's going to work with him again, this time for an unspecified part in AHS. American Horror Story: Freak Show premieres Wednesday, October 8 on FX. Check out the previously released teaser after the jump...
Your Daily Blend of Entertainment News
Thank you for signing up to CinemaBlend. You will receive a verification email shortly.
There was a problem. Please refresh the page and try again.