American Horror Story's Ryan Murphy Drops Season 3 Hints About 'Evil Glamour' And New Location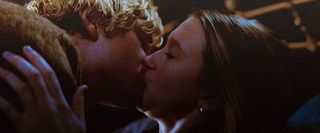 There are a few more episodes left in the second season of FX's horror drama American Horror Story. With the Asylum installment wrapping up this month, we'll be left to wonder what creators Ryan Murphy and Brad Falchuk have in mind for next season. From what's being reported, it sounds like they're already playing with some interesting ideas.
One of the numerous things that sets American Horror Story apart from other shows is the way it restarted itself at the beginning of the second season. While Season 1 focused on a family that moved into haunted house with a violent history, American Horror Story: Asylum took us back a few decades and moved viewers into a creepy mental institution for the criminally insane, where the staff appears to be more dangerous, in some cases, than the patients.
What's ahead for Season 3? EW caught up with Ryan Murphy to chat about "The Name Game" episode that aired this week and about the season that's wrapping up. At the end of the interview, they asked him about next season, asking, "You said that next year will be lighter. Is that still the case?" Here's Murphy's response:
Violet and Tate's relationship in Season 1 was far from conventional, what with his violent background and the fact that he was also kind of (spoiler alert!) dead. But for a show like AHS, conventional isn't really an option, and Violet and Tate's dark but intriguing relationship was one of the things that worked well for the first season. So I like that it sounds like they're planning on revisiting young love in some way next season. Is it too soon to nominate Evan Peters and Taissa Farmiga for Season 3 roles? As for the "place in the country where true horror has been," I can only imagine what that means.
American Horror Story airs Wednesdays at 10:00 p.m. ET on FX.
Your Daily Blend of Entertainment News
Thank you for signing up to CinemaBlend. You will receive a verification email shortly.
There was a problem. Please refresh the page and try again.