Andy Samberg Confirmed For British Comedy Series Cuckoo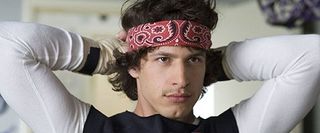 Andy Samberg just made his farewells to Saturday Night Live, and new TV gig is officially confirmed – he's going across the pond. He's headed over to BBC Three to take on a role in a new comedy series called Cuckoo. The six-part series is gearing up for summer filming, so Samberg isn't wasting any time with his next career move it seems.
A little while back Samberg let word out that he was headed to the BBC comedy. Samberg will play newly married Cuckoo – yes, that's his name, no I don't know why – who moves in with his new wife and her parents, as Deadline confirmed with an official announcement today. He's described as something of a nouveau-hippy slacker type who horrifies his new British in-laws, played by Greg Davies of The In-Betweeners and Helen Baxendale who played Ross' short-lived wife Emily on Friends. The fact that she's now playing the mother of a grown woman makes me realize just how long ago that actually was. There's no word on who will play Samberg's wife on the series, so I'm guessing she's not cast just yet.
Although it doesn't specifically say so, I'm in agreement with Jessica's guess that he's not playing an English lad and instead will be the American boy who marries an English girl much t the dismay of her family. Or maybe he'll put on an accent? Either way, the oh-heavens-she-married-a-loser plotline is a little played out, but the BBC does have a way of making the obvious funny. And of course, Samberg knows funny pretty well. For a first new TV gig after SNL, it sounds like a pretty good move, and British shows are certainly riding a wave of popularity here in the U.S. at the moment. Samberg also has a few feature roles on the way, including The To-Do List. set for a 2013 release.