Will Arnett's Devon Banks Set To Return To 30 Rock This Season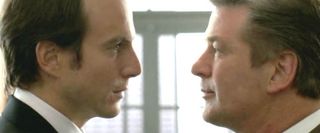 If there were any justice in the world (of entertainment), Will Arnett would be one of the biggest comedy stars on the planet. Don't get me wrong, the man is doing pretty, pretty good but after his turn as GOB on the now legendary Arrested Development, I thought he would be a instant comedy leading man. He's still working on the leading man part but he does get to do a lot of great guest work, most notably as Devon Banks on NBC's 30 Rock, a role he'll revisit this season.
That's right Jack Donaghy (Alec Baldwin) you better get ready for at least one more 'talking like this contest' with your Gay executive nemesis. TVGuide (opens in new tab) reports that Arnett's Banks will definitely be returning and 'gunning for Jack' (obviously) but an actual date for the return has not been set. 30 Rock doesn't return until mid-season, so we definitely won't be seeing the Banks-Donaghy showdown, refereed by Liz, for at least a few months. Oh well, there's always Up All Night.
This has actually been a pretty great week for the Canadian Comedian - Mr. Amy Poehler - as his newest network show, Up All Night, officially received a full season order (opens in new tab), hopefully breaking the chain of his TV woes (I actually liked Running Wilde, or at least saw potential). Yesterday, also brought Arrested Development news, like a potential mini-season, which would be followed by the much talked about Arrested film. This, of course, is prefaced by the ominous 'if all goes as planned' meaning, don't start buying your subscriptions to Showtime, IFC or Netflix just yet. Fingers incredibly crossed.
You can catch Will Arnett in Up All Night every Wednesday at 8 pm. on NBC and we'll keep you posted on exactly when Devon Banks invades 30 Rockefeller Plaza.
Your Daily Blend of Entertainment News
Thank you for signing up to CinemaBlend. You will receive a verification email shortly.
There was a problem. Please refresh the page and try again.