NBC Cancels The Playboy Club, Orders Whitney And Up All Night For Full Seasons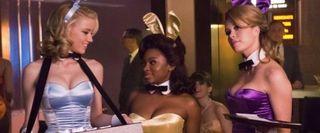 Just a few days ago NBC seemed confident in its freshman drama The Playboy Club, which suffered bad reviews and lackluster audience response from the moment it premiered, despite supporters like our own Jessica Grabert swearing it was worth a shot. But after giving it a second chance, NBC has decided to pull the plug after all-- Deadline reports that they're pulling the show from the lineup and as of October 31 will replace it with, of all things, Brian Williams's newsmagazine show Rock Center.
It's not all bad news at the network, though-- NBC has given full-season orders for Up All Night, the bona fide comedy hit starring Will Arnett and Christina Applegate, as well as Whitney, considered by critics to be the redheaded stepchild of the otherwise solid Thursday night lineup, but I guess still good enough to stick around. Given how good Up All Night is, with Maya Rudolph also turning in a hilarious supporting performance, I guess it's a little churlish to complain about them keeping Whitney around too.
So were you guys like Jessica and supporting The Playboy Club despite its early troubles? Or are you glad to see the 60s era bunny rabbits head off to the great beyond? Vote in our poll below.
This poll is no longer available.
Staff Writer at CinemaBlend
Your Daily Blend of Entertainment News
Thank you for signing up to CinemaBlend. You will receive a verification email shortly.
There was a problem. Please refresh the page and try again.