Arrow 2013 Comic-Con Panel Live Blog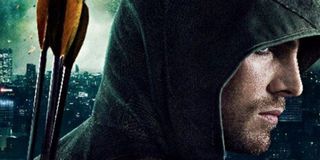 The pilot premiered at SDCC last year and now Arrow is back at the Con to promote the upcoming season second of the superhero series. In attendance for the panel are stars Stephen Amell, Katie Cassidy, David Ramsey, Emily Bett Rickards and Colton Haynes as well as executive producers Greg Berlanti, Marc Guggenheim, and Andrew Kreisberg. The CW action adventure show is also bringing a special video presentation to preview the upcoming season, one that focusses on Oliver's 'transformation from vigilante to hero.'
5:30 The Arrow panel opens with the Season 2 sneak before moderator Damian Holbrook even takes the stage. Br right back! Okay. Not going to lie. That was a killer tease. Not only did it catch everyone up on the last events of the first year before showing a bunch of rad looks at next season. Right off the bat we see new addition to the show Summer Glau before moving on to a revamped Arrow Cave, a need for a new name and our first glimpse at BLACK CANARY! And that was only four days of filming the first episode called "City of Heroes."
5:40 Will the Queen family ever be able to sit down to a family dinner? The producers say that this will be tough with one of them in prison but look for a redemption arc for Moira and Thea running the club. Ollie's gone for a while but returns to grow from Arrow into Green Arrow. The first episode will take place five months after the finale and the characters are still dealing with the aftermath of all the craziness. And Starling City is only getting worse.
5:43 The heroes in Season 2 aren't just in costumes either, with Detective Lance working the beat and doing good, Laurel continuing her work with the law and, of course, Roy. Although he might suit up before too long. Last year we also saw Laurel start kicking ass literally, so can we expect to see more of that next season? Cassidy says absolutely. She's also never going to forget Tommy and has to deal with that weight as well as the unsure relationship with Ollie.
5:46 Now we get to the big question, Black Canary? They are setting out to tell the origin story for that hero but like the others, we'll see someone else in the suit before turning to the real secret identity from the comics. Kriesberg compares her introduction to the way we first saw the other DC characters, basically with other people suiting up before the iconic names stepped into the costumes. Yao Fei was Arrow. There was another Deathstroke before Slade. Black Canary might just follow the same path. I won't say who is destined to be Black Canary for those who don't read the comics.
5:49 What about the Smoak? Will Felicity find love? Holbrook thinks there's a spark between her and Dig. While others see her and Ollie together. When Emily is asked she plays it diplomatically, not picking sides when sitting right between the two co-stars. Another fan favorite is Colton Haynes and he was sad to leave his Teen Wolf family but fit right in with this new group. And whether we'll see him and Ollie actually team up, all he can say is that is what Roy wants but he might be getting ahead of himself. Maybe some bruising.
5:54 As for the many characters who left the show last season, whether injured or dead, can we expect to see any of them back? McKenna is still out there some where. They had originally planned to kill her off but she was so great they had to keep her alive. She just might come back. And anyone else? Right on cue, John Barrowman walks on stage and the crowd goes bananas. He's even decked out in an Arrow shirt. He loved working on the show, especially since the weight wasn't on his shoulders like it was during his days on Torchwood.
5:56 Will Malcolm be coming back? Can people return from the dead? Barrowman would be more than happy if he's invited back. An invitation is more than the 50th anniversary of Dr. Who gave him. The show's flashback structure also allows for him to come back from the dead without stretching the believability. More DC characters coming? Teen Titans Brother Blood who will be played by Kevin Alejandro from True Blood. Michael Jai White is also joining the cast as Bronze Tiger and set to team up with Deadshot. And, of course, there's the lovely Summer Glau as possible baddie Isabel Rochev.
6:02 Audience question time! First up is Jonah, whose make a wish was to be here. He also brings up a memory of meeting John Barrowman. I almost cried. It's been a long day. His question is how will Ollie turn from Arrow to Green Arrow? Amell says that nothing happens over night but the beginning of the journey is about honoring Tommy's memory and being a different guy than he was when his best friend last saw him.
6:05 What is more taxing, the physical prep or the emotional acting? Amell says that the makeup chair is incredibly taxing where the writing is so good, as are his co-stars, that the acting comes much easier. As for the abs, they take about thirty days. The last question concerns the characterization of Deathstroke and whether we will see Slade turn into a villain or anti-hero? Maybe a journey from one to the other? The producers would rather let Season 2 answer that one. Watch Arrow this fall on The CW.
Your Daily Blend of Entertainment News
Thank you for signing up to CinemaBlend. You will receive a verification email shortly.
There was a problem. Please refresh the page and try again.