Arrow Season 3, Episode 14 Watch: DCU Connections And Easter Eggs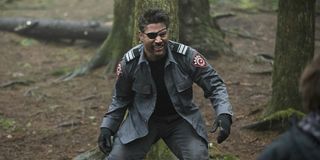 Since he proved such a formidable and entertaining adversary for Season 2, Arrow fans have been waiting for "The Return" of Slade Wilson for some time. The CW series didn't keep Deathstroke alive just so he could rot away in some prison. Not when he's still got to make good on his "Promise." The writers probably thought reducing last year's nemesis to a villain-of-the-week would make this year seem even larger, like even more of an event, but bringing back the second season's super-successful big-bad only highlighted how disappointing the third has been by comparison. And there haven't been nearly enough DCU Easter eggs to make up for the mediocrity...
The Past
It was clever for Arrow to flip the (first season) script, having the flashbacks take place in Starling City and the present narrative play out on the island. And scruffy Oliver in the green hoodie is the closest he's looked to the comic book Green Arrow since his introduction. It was also a nice touch to have him wear a Star City Rockets hat while skulking around his hometown for A.R.G.U.S. Agent Waller has Ollie and Maseo in Starling so they can stop China White from selling the Alpha and Omega (I don't know if those references are intentional) to a bunch of ethnically diverse Bond villains. Can they stop her from causing Armageddon? We also got to meet Waller's boss General Matthew Shrieve, who, in the comics, is the human leader of the Creature Commandos. Does that make him Mockingbird? And casting Marc Singer was a cheeky move by the show. He was The Beastmaster, after all.
While Oliver is in Starling spying for A.R.G.U.S., he makes a point of checking in on his friends and family and kills Thea's drug dealer. Oops. Colin Donnell's Tommy is doing his best to keep her in line but why should she listen to him? He's "not her brother." Nice. Was anyone else getting a Luke and Leia vibe? Gross. Thank God for Laurel coming between the siblings and sparking up a relationship with the City's other resident billionaire bad boy. Of course, Quentin Lance isn't that happy about the budding romance, since he's not exactly over Sara's first death. Queen Consolidated still existed at the time and, for a second, I thought that Felicity's legs were going to be Moira's, but the Queen matriarch was reduced to a name-drop (same with Walter Steele), while her former husband Robert made an actual on-screen appearance. And since we're talking family, it was cute of the series to sneak in a scene of John and Andy Diggle talking about Lyla.
And The Present
As I mentioned above, a clever twist has the present storyline taking place 'in Purgatory' with Oliver and Thea (aka Speedy) arriving on Lian Yu at the end of last week's episode. And it was a nice touch to show the wreckage of the Amazo in the background as the Queen siblings started their training. It doesn't take long for Ollie to pay his one-eyed friend a visit (that sounds gross) and discover that Deathstroke has managed to escape from the A.R.G.U.S. Super-Max Prison. Captain Boomerang is also an inmate of the underground jail but he doesn't get to come out and play. Don't worry, you'll be able to see a big-screen version of the character soon enough.
After all this time in prison, Slade still hasn't forgotten about Shado as he continues to monologue about his lost love, even though they weren't ever actually lovers. Mirakuru is a hell of a drug. It turns out that Merlyn is responsible for letting Deathstroke out of his cage, and this latest asshole move prompts Oliver to finally tell Thea the truth about Sara. This would be a good time to go back to Corto Maltese and forget about your messed up family. Of course, running from Ra's al Ghul won't work. The League of Assassins will find you wherever you go. Before ending, "The Return" returned to Starling City to show Lance yet again grieving for his now really dead daughter. As sick as I am of the 'why didn't you tell me?' drama on this show, it was cool to hear him utter the words Black Canary. Now join us in pouring one out for our homie, Sara…
Arrow continues with "Nanda Parbat," - the first time fans get to see Brandon Routh suit up as The Atom - on Wednesday, February 25 at 8:00 p.m. ET on The CW. Created by Marc Guggenheim, Andrew Kreisberg and Greg Berlanti, the DC Comics inspired series stars Stephen Amell, Katie Cassidy, David Ramsey, Emily Bett Rickards, Willa Holland, Colton Haynes, Paul Blackthorne and John Barrowman.
Your Daily Blend of Entertainment News