Arrow Spinoff The Flash Goes To Series At The CW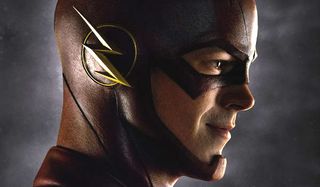 Greg Berlanti and Andrew Kreisberg's Arrow spinoff The Flash seemed like a sure thing for the CW, but nothing's certain until that series order comes in, and today, it came in! The Flash is a go. Barry Allen will be back on the CW for the 2014-2015 season, this time around as a lead character in his own series -- as opposed to a guest character in CW's Arrow, which is how he was first introduced to us.
Deadline reported today that the CW has greenlit a number of projects to series, including The Flash. Also a go are Jane the Virgin, The Messengers and Rob Thomas' iZombie. But it's The Flash that DC and Arrow fans alike were particularly hopeful for. Grant Gustin will star in the series, which centers on Barry Allen, a Central City assistant police forensics investigator who was last seen rendered comatose after being caught in a lightning storm in his lab.
Gustin's character was introduced in Arrow earlier this season when he enthusiastically helped out Oliver and his team. He hit it off rather well with Arrow's Felicity, but the coma seems to have halted that budding romance. Barry has been referenced, however, so he may be out of sight on Arrow, but he's certainly not out of mind. And Arrow has since featured two other characters who are expected to appear in The Flash. So the tie-ins are already there and we've been given plenty of hope that things would work out for this project.
There's just one episode to go before Arrow wraps up for the season, after which we'll have months to wait. But it's far better waiting for two great shows than for one. Hopes are high that The Flash will live up to the standard set by Arrow. Also high is our hope that CW will give us a sneak peek at this series next week after their Upfront presentation! In the meantime, here's everything we know about The Flash so far.
In other news, as mentioned, CW's also moving forward with the next drama from Veronica Mars creator, Rob Thomas, along with Diane Ruggiero. iZombie will star Rose McIvor as a med-student-turned zombie who gets a job at a coroner's office and uses the memories of the corpses to help solve crimes. Jennie Snyder Urman's Jane the Virgin stars Gina Rodriguez as a young, religious Latina who's accidentally artificially inseminated. Yikes. And then there's The Messengers, which centers on a group of people who are killed-then-awakened after a mysterious object crashes on Earth. They're tasked with preventing the apocalypse.
Zombies, apocalypse, virgins and The Flash!
In the words of George Takei... Oh myyyy!
Your Daily Blend of Entertainment News
Thank you for signing up to CinemaBlend. You will receive a verification email shortly.
There was a problem. Please refresh the page and try again.