Aziz Ansari Looking To Host 2010 MTV Movie Awards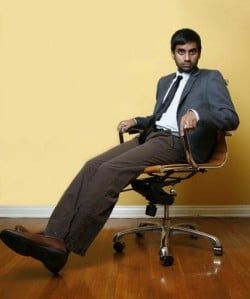 Someone must have decided that Aziz Ansari (Parks & Recreation) is hip with the kids, because the LA Times is reporting the comedian is finalizing a deal to host the 2010 MTV Movie Awards. Adding some credence to the report is the fact that Ansari has been Tweeting recently that he'd watched for the first time ever both films in the Twilight saga.
Now, I can't see any reason why a grown man would voluntarily watch those films unless there was a chance he'd have to spend a few hours talking incessantly about them. Twilight dominated both the ceremony and the awards in 2009, and with the third film in the series, Eclipse, set to hit theaters in June 2010, you can bet MTV will be all over this pop culture phenomenon again.
Which means the host of the Movie Awards had better know his stuff, or be devoured alive by hordes of pre-pubescent girls. I wonder if he's picked which "Team" he's on. Ansari is a pretty hairy guy, so it might be Team Jacob for him.
Of course, there's no guarantee this deal will come through, but it would be a pretty big step for Ansari in a career that's clearly on the rise. Parks was recently picked up for a third season, his Comedy Central special was a big hit, he's hitting the road for a new stand-up comedy tour this summer and, most importantly, he has a film coming in June. As in Get Him to the Greek, also featuring MTV faves Jonah Hill and Russell Brand, will still be in theaters when the MTV Movie Awards go down.
Your Daily Blend of Entertainment News
Your Daily Blend of Entertainment News
Thank you for signing up to CinemaBlend. You will receive a verification email shortly.
There was a problem. Please refresh the page and try again.