Ben H. Winters' The Last Policeman Could Become A TV Series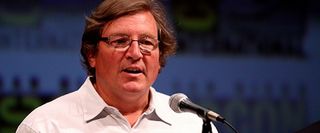 Producer Lorenzo di Bonaventura, who brought Zero Hour to CBS, is working on a deal to bring the just-published novel The Last Policeman by Ben H. Winters to television as a series. Although the book was only just published and is part of what will eventually be a trilogy, di Bonaventura is already working to aquire the rights to develop a series adaptation.
It's not the fastest move from book to series even in recent months; the CW's The Selection which made it to pilot but didn't wind up on the fall schedule, was based on a book that wasn't even published yet. Still, di Bonaventura Pictures isn't lagging on going after the rights to a trilogy with only one book published. Deadline says the producer is working with the author and publisher on a deal.
The Last Policeman is an interesting take on the procedural. The novel focuses on a police detective in a world that is headed for destruction; a meteor is set to destroy the earth in six months. That apparently won't dissuade Detective Hank Palace from doing his appointed task. He's described as something of a goof-ball character who is dedicated to his job, and continues to do his best to solve a murder mystery in spite of humanity's impending doom. Two more books are expected in the trilogy yet, but if indeed the world does end that could make keeping a television series going difficult. Unless the hard-working detective plans to continue to solve post-apocalyptic murders, which I am guessing will be few and far between.
Your Daily Blend of Entertainment News
Your Daily Blend of Entertainment News
Thank you for signing up to CinemaBlend. You will receive a verification email shortly.
There was a problem. Please refresh the page and try again.