Better Call Saul Photos, Cast And Plot Details Revealed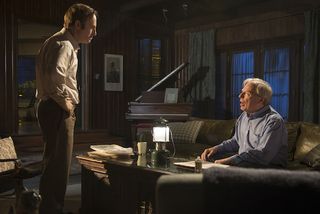 AMC has released two new photos for their highly anticipated Breaking Bad prequel Better Call Saul, along with confirmation of the series regulars. The above photo gives us a look at Bob Odenkirk, who plays the titular Saul Goodman, and Michael McKean, who's playing the role of Chuck.
The other photo shows Saul holding what appears to be a check against a glass partition…
Created by Vince Gilligan and Peter Gould, Better Call Saul will have Bob Odenkirk reprising his role as the shady attorney Saul Goodman. AMC says the series will pick up six years before Saul met the teacher-turned-meth-cook Walter White. At this point, Saul Goodman was going by the name Jimmy McGill. He's described as "a small-time lawyer searching for his destiny, and, more immediately, hustling to make ends meet." The tone of the series is said to be "dramatic, woven through with dark humor"
Along with the above pictures and plot information, AMC announced that the series regulars include Jonathan Banks, who played Mike Erhmantraut in Breaking Bad, along with Michael McKean as Chuck, Rhea Seehorn as Kim, Patrick Fabian as Hamlin and Michael Mando as Nacho. From what the network says, some of these characters are on the right side of the law, while others aren't.
Since Breaking Bad wrapped up last year, Jonathan Banks moved on to comedy, with a role in NBC's Community. Michael McKean may be best known for popping up in Christopher Guest movies (This is Spinal Tap, Best in Show), as well as Clue, Airheads, Coneheads. More recently, he appeared in the HBO series Family Tree. Rhea Seehorn's credits include Whitney and Franklin & Bash. Michael Mando recurs as Vic in BBC America's Orphan Black. And Patrick Fabian's credits include The Newsroom and Scandal. It's going to be great to see how this cast gels, both dramatically and comedically.
Beyond the series regulars, there's the potential for guest appearances by Breaking Bad stars. While Better Call Saul is set up as a prequel to the events that transpired in Breaking Bad, the series is said to have a flexible timeline, which might offer the opportunity for some very familiar guest stars.
Better Call Saul was originally supposed to premiere its 10-episode first season this fall, but AMC has pushed the series' anticipated premiere to 2015. So we're waiting a bit longer than originally expected for the series to arrive, but on the bright side, it's already been green-lit for a second season.
Your Daily Blend of Entertainment News
Thank you for signing up to CinemaBlend. You will receive a verification email shortly.
There was a problem. Please refresh the page and try again.