Beverly Hills, 90210's Tori Spelling And Jennie Garth To Reunite For Mystery Girls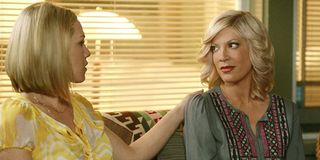 Two big stars from the nineties are about to reunite, and they are heading to cable. Tori Spelling and Jennie Garth, two actresses who are most known for playing popular characters in Beverly Hills, 90210, have signed on for a brand new pilot being put together by ABC Family. Plus, it marks an onscreen reunion for the Beverly Hills, 90210 gals, who both later reprised their roles on the spinoff 90210. The pilot is going by the title Mystery Girls.
With the word mystery in the title, you would think this one would probably be a crime-solving show of some sort, and it turns out that would be a correct guess. The Mystery Girls pilot will star two fictional former TV stars who used to appear on a fictional TV program called—you guessed it—Mystery Girls. In the pilot, a witness to a crime will refuse to talk to anyone but the two former stars, thus leading the women to come up with a harebrained scheme to start a detective agency. According to a press release from ABC Family, Spelling will play Holly, one of the former starlets who is desperate to be famous once more and ends up hatching the detective agency scheme to find fame for a second time. Garth will play Charlie, the other former star who works as a mom and housewife, but who gets sucked into the detective agency idea, as well.
ABC Family typically relies on a lot of familiar, family-oriented plots, but the network is known to go outside-the-box every now and again—think Kyle XY. Both Garth and Spelling are well beyond their years as Hollywood starlets and the Mystery Girls premise should provide a way for the writers to be pretty tongue-in-cheek about Spelling and Garth's careers. It's not the way I would want to jump back onto television, but that doesn't mean people won't tune in.
In fact, Mystery Girls doesn't even mark the first time that ABC Family has put together a project based around some of yesterday's stars. Melissa & Joey, starring Sabrina the Teenage Witch actress Melissa Joan Hart and Blossom actor Joey Lawrence, does quite well at the network and was recently even renewed by ABC Family. A project like Mystery Girls could also find a niche.
In fact, Garth and Spelling are putting a lot of effort in to the pilot to ensure it succeeds. Spelling and Men at Work's Shepard Boucher wrote the story for Mystery Girls. While Boucher is writing the pilot, both Spelling and Garth will also serve as executive producers, alongside Maggie Malina. This isn't Garth's first pilot for ABC Family, either. She initially signed on to star in a pilot that didn't make it to series a couple of years ago called Village People. This time, it looks like she's hoping the outcome will be different.
The pilot won't even shoot until November, so clearly it will be a while before ABC Family decides whether or not this one is worth a pickup, but its leads have potential even if its premise seems pretty wild. I've seen ABC Family make do with worse plots, and I wouldn't be shocked if Mystery Girls got a pickup order. We all know Mystery Girls will not make for inspiring television, but don't act like you wouldn't tune in for a couple of episodes if this project was marathoning on the network.
Reality TV fan with a pinch of Disney fairy dust thrown in. Theme park junkie. If you've created a rom-com I've probably watched it.
Your Daily Blend of Entertainment News
Thank you for signing up to CinemaBlend. You will receive a verification email shortly.
There was a problem. Please refresh the page and try again.