The Bible And Vikings Give History Channel A Big Sunday Night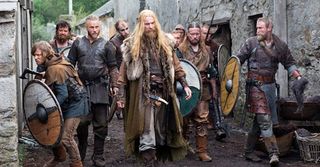 History Channel just had a seriously big weekend, proving that some of the oldest and most told stories around are still interesting to viewers. Both Vikings and The Bible premiered to strong numbers, making History's first foray into scripted television and their in-depth look at the Bible's best-loved stories both a huge success.
God is good for the ratings it seems. History's The Bible premiered Sunday to 13.1 million viewers for the 8 p.m. premiere and a total of 14.8 million on the night over two telecasts. That makes it the top cable telecast of the year so far. The Bible stars Roma Downey as Mary and Diogo Morgado as Jesus, and follows the Bible from Genesis to Revelations, promising more insight in the the people made famous in the text. The series will include such well-known tales as Noah's Ark and Daniel and the lion's den among others in the coming episodes.
As if one success wasn't enough, Vikings followed up The Bible with 8.3 million total viewers on the night, 6.2 million tuning in for the 10 p.m. premiere. The numbers earn the series debut the title of the top cable series launch of the year to date, and won the timeslot for History among viewers 18-49 over the broadcast networks as well as other cable channels. The series looks at the world of Viking warriors and their wives and children, both the bloody an violent era in history as well as the more family-oriented aspects of life in that time. Vikings stars Gabriel Byrne, Travis Fimmel, Jessalyn Gilsig and Kathryn Winnick and is written by Academy Award winner Michael Hirst.
Together the two shows gave History its best day ever and some really impressive ratings for a cable network not known for scripted television. Both shows will air on Sunday nights on History, The Bible at 8 p.m. followed by Vikings at 10 p.m.
Your Daily Blend of Entertainment News
Thank you for signing up to CinemaBlend. You will receive a verification email shortly.
There was a problem. Please refresh the page and try again.