The Big Bang Theory Just Cast Sheldon's Meemaw And She's Perfect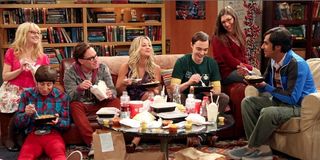 The Big Bang Theory is full of mysteries, and most of them revolve around the main characters' family members. For instance, will we ever meet Howard's absentee dad? But now, finally, we'll get to feast our eyes and ears upon one of the most mentioned family members the program hasn't shown us yet: Sheldon's meemaw.
According to Entertainment Weekly, Academy Award nominated actress June Squibb will appear on The Big Bang Theory as Sheldon's much lauded maternal grandmother, whom he calls "Meemaw."
Sheldon considers his meemaw to be his favorite of all his family members, due to the fact that he bears no resentment toward her, unlike the rest of his family. And since he cares for her much more than their other family members, he simply rejects any notion that would lead to ill will toward her or inadequacy on her part. Sheldon even refuses to admit that Meemaw had to have sex and probably enjoy it in order to conceive his mother, Mary. At one point, however, he does admit that Meemaw once killed a prairie dog with a gravy boat, so that prairie dog must have really had it coming.
Audiences were treated to their first mention of Sheldon's meemaw in the seventeenth episode of the second season, titled The Terminator Decoupling, when Penny accidentally finds a box of letters to Sheldon from his grandmother. Penny then uses Meemaw's nickname for him, Moonpie, and is promptly told that "no one calls me Moonpie, but Meemaw" because he's "nummy nummy and she could just eat me up."
Meemaw seems to be one of Sheldon's few weaknesses. He was even tricked by Wil Wheaton into letting Wheaton win a card tournament, when he elicits Sheldon's sympathy by mentioning the passing of his own grandmother. The story, though, is of course a ruse to throw Sheldon off and allow Wheaton to win the competition. When Amy calls Sheldon's meemaw to get his favorite cookie recipe from her so she can make them for Christmas, Sheldon declares that they taste like "Meemaw's hugs."
Right now we don't know why or how we'll get to finally experience Meemaw live and in person, but it's a good bet that, since June Squibb has taken on the role, she'll be quite the spitfire. The Broadway and Off-Broadway veteran didn't pursue screen roles until she was in her 60s, but her recent film and TV parts have seen her play a lot of saucy old broads. She cursed up a storm in 2013's Nebraska, the film she got the Oscar nod for, and told Ellen DeGeneres in 2014 that she was once known as "the dirtiest mouth on Broadway."
I think we would all love it if Sheldon's highly praised meemaw was actually a sassy smart ass who prefers Sheldon to most other people. The idea of her being filled with obvious flaws that Sheldon just can't see is, I believe, the best option for the character. Well, we can all see how this meemaw thing turns out sometime in February when she makes her first appearance on The Big Bang Theory.
Yennefer's apprentice, Gilmore Girl; will Vulcan nerve pinch pretty much anyone if prompted with cheese...Yes, even Jamie Fraser.
Your Daily Blend of Entertainment News
Thank you for signing up to CinemaBlend. You will receive a verification email shortly.
There was a problem. Please refresh the page and try again.