What's The Big Bang Theory Doing About Sheldon's Engagement Ring?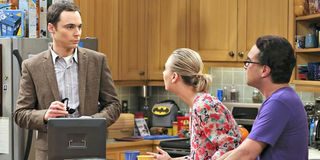 The Big Bang Theory took a little winter break over the last several weeks following a very big episode for Sheldon and Amy. After Sheldon made a bold move to get back together for Amy, the two finally made it into the bedroom, where they engaged in coitus for the first time. Following the big Star Wars-themed episode, Amy and Sheldon seem to be back on track, but it leaves one lingering question. What the hell is going to happen with that engagement ring? Luckily, showrunner Steve Molaro recently shared an answer of sorts.
So, that's a bit of good news and bad news. Obviously, I'm not advocating Shamy rush into a marriage just when the couple has gotten back together, but Steve Molaro's words seem to indicate that the engagement ring is around but may not come back into the plotline anytime soon. It's clear the ring is still on the back of everyone's minds in the writing room, but while Sheldon took a step and committed in the bedroom, it's clear he's not committing to wearing a tux and taking a bride anytime soon.
In the recent interview with TV Guide, Steve Molaro also says that The Big Bang Theory plans to take a step back from the Amy and Sheldon shenanigans.
Honestly, the last several months saw The Big Bang Theory focus on Amy and Sheldon, their potential to date other people, the underlying problems with their relationship and how their break-up affected their friends as well as social gatherings with their friends. Now that they are back together, it sounds as if they are going to be in their "honeymoon period" all over again and that any Amy and Sheldon plotlines might get relegated to the b-story, at least for a little while. Which means no engagement ring anytime soon.
I think a lot of people are probably burnt out by all of the Shamy stuff this fall, so in a lot of ways, it should be nice if The Big Bang Theory resets and gives Howard, Bernadette, Raj, Leonard, and Penny more focus. Still, if anything, the engagement ring has been a key plot point. Sheldon first brought out the ring after he and Amy broke up in the Season 8 finale. It was mentioned again throughout the early part of Season 9, with audiences eventually learning where the ring came from. In addition, Leonard and Penny ultimately found out that Sheldon had the ring for Amy before she broke up with him. The ring has clearly been tied into plotlines during Season 9, and Molaro's statements indicate it will clearly be considered in future plots. Thus, eventually Amy is going to find out Sheldon is holding that ring for her. Eventually. Whether she finds out randomly or Sheldon actually pops the question is another matter entirely.
The Big Bang Theory is expected to return this week. New episodes will hit the schedule--likely sans an engagement ring for the foreseeable future--on Thursday, January 7 at 8 p.m. ET. You can find out when the rest of your favorites are returning with our midseason TV schedule.
Photo courtesy of CBS.
Your Daily Blend of Entertainment News
Reality TV fan with a pinch of Disney fairy dust thrown in. Theme park junkie. If you've created a rom-com I've probably watched it.