The Big Bang Theory Watch: The Justice League Recombination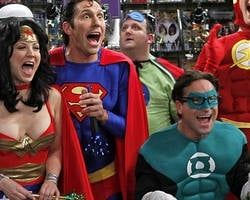 There is nothing more sensitive to a man than the speculation of his own level of masculinity. As a precious species, men can fall easily from hero to sidekick when probed with comments that diminish their worth. For our nerds on The Big Bang Theory, this happens all the time; yet, tonight was the night they got to dole out their own verbal punishment, and subsequently, we received a new perspective to male inferiority in the Big Bang universe.
In The Justice League Recombination, Penny reconnects with a former flame, Zack, and the gang takes the initiative to make him feel unwelcome. With snarky insults that exhibit his overall stupidity, the nerds quickly adopt the role of the bully. As triumphant as this reversal of roles feels for them, it comes at a price; Zack picks up that their humor is more caustic than innocent, and Penny vehemently expresses her disapproval of their immature behavior.
In order to reconcile things, Leonard leads everyone in a unified albeit weak apology. Zack's naivete somehow leads him into their tight clique for the night, and Penny is left all alone. Sheldon capitalizes on this new relationship and decides to recruit Zack for their Justice League group costume to be entered in the New Year's Eve costume contest. Sheldon's acquisition tests Leonard's masculinity, as he is forced to deal with Penny's new boyfriend, and Penny is tested when she confirms that she has no interest in Zack at all; she just wants to avert loneliness on her way into the new year.
The two confront these issues in a quiet scene together. Hints of regret slowly pour out from Penny's already saddened state, which surprisingly conflicts with Leonard's acceptance of their failed attempt at a relationship. It's a deep moment for The Big Bang Theory, especially for this season.
And so, when ushering in the new year as winners of the costume contest, Penny and Zack share a kiss. More importantly, Penny and Leonard share a sentimental glance that speaks voluminously against the festive celebrations. This episode, which marks the hiatus for the show until January, establishes a hopeful arc in such a plaintive manner. The universe apparently wants them to be together, but for now, they can't be. It's no one's fault. This time, Leonard has no reason to blame his geekiness for not being with her. His masculinity- or lack thereof- is in no way accountable for his loneliness. For that reason alone, I can only sympathize with him even more. He's doing everything right, but nothing right comes as a result. Tonight, with precise execution, the show juxtaposes both the joys of a new year and the woes of the past.
Your Daily Blend of Entertainment News
Thank you for signing up to CinemaBlend. You will receive a verification email shortly.
There was a problem. Please refresh the page and try again.