The Big Bang Theory Watch: The Zassy Substitution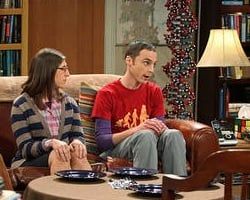 Couples are naturally exclusive. Sure, their romantic quirks are inconsequential to the broad bystander, but to the intimate duo in love, these oddities are precious. As an effect, couples coming out of invisibleness to collectively interact with singles can create severely odd dynamics. And when that particular couple is a pair of snooty intellectuals such as Sheldon Cooper and Amy Fowler, the mood is only bound to worsen.
In The Zassy Substitution, we checked back in with Sheldon and his questionably romantic counterpart. They were platonic in their interactions, implying an asexual relationship, but their collaborative penchant for diminishing the esteems of others shrewdly exhibited their romantic chemistry. The dynamic of our family of nerds transformed with Amy's frustrating existence, and her relationship with the family's black sheep only exacerbated things.
I was surprised to see how mature and tolerant Leonard was throughout this calamity. Despite his chagrin, Leonard calmly confronted Sheldon regarding the obnoxiousness of his new belle. Since season three, Leonard has become the straight man, a passive voice of reason and concern. Yet, we witnessed him make an active effort to help out his best friend, even if Sheldon reprimanded him for even surmising such a wicked thought.
Surprisingly, not even Sheldon could dodge the pervasive nuisance of Amy Fowler. What constituted as their first fight, Sheldon and Amy quarreled over the subjectivity of intelligence. Specifically, they argued over the importance of their own respective fields of work in a wonderfully meticulous scene of condescension, adamance, and competition. Amy, a neurobiologist, overtly insulted Sheldon's work as a theoretical physicist for simply being theoretical, and Sheldon retorted with the argument that physics is the foundation of all living things. Their bickering ceased to a deadlock, and terminating the relationship became the only logical conclusion.
To assuage his loneliness, Sheldon confided in the comfort of pet cats. He purchased several of them, naming each one after members of the Manhattan Project to correlate with the atomic breakup he just endured. Perfecting this sad picture, Sheldon continued to deny his relationship with Amy as one of intimacy. Again, it was Leonard who bravely aided him.
Leonard's sympathy for Sheldon depicted the essence of their relationship. Leonard is the only link that Sheldon has that allows him to attain a sense of personableness; Leonard is Sheldon's extension of humanity, and if Sheldon were to lose that, things would be grim. Leonard, who sometimes chooses to disregard his affinity for Sheldon, displayed not only his tolerance but his fraternal respect.
With the help of Sheldon's mother, Leonard drew Sheldon out of loneliness and even brought him back together with Amy. He sacrificed his already tinkering sanity in order to see a friend happy. A great ending to a great episode.
Your Daily Blend of Entertainment News
Thank you for signing up to CinemaBlend. You will receive a verification email shortly.
There was a problem. Please refresh the page and try again.