Big Brother 17 Watch: Eviction Tears A Showmance Apart - Updated With Head Of Household Winner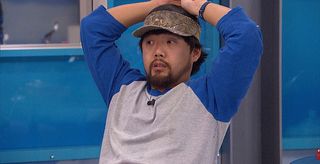 The events in the Big Brother house this week proved this show doesn't need big twists or takeovers to make the live feeds entertaining. These houseguests came to play. Well, most of them did. And with a showmance on the block this week, there was no shortage of game talk talk. Spoilers from Thursday night's live episode of Big Brother ahead!
As mostly expected, Clay was evicted from the Big Brother house tonight. It was less expected that it would be a unanimous vote, as James was leading the charge to get Shelli out. He had the support of Meg, Jackie and Becky. And I think Johnny Mac was also on board, but less solidified than the others. Meanwhile, Vanessa, Austin, the twins and Steve had other plans.
We've known pretty much all week that Vanessa was going to try to keep Shelli, which makes sense from her perspective. Of Clay and Shelli, Shelli is far more likely to remain close with Vanessa and work with her. Clay would've likely been more of a free agent, and depending on who won Head of Household tonight, his loyalties could shift. That may very well have been the same logic James, Meg and Jackie were working with in their determination to keep Clay over Shelli. Also, she's a bigger threat, as she's won more competitions and demonstrated an ability to get what she wants in this game.
If anyone has really been on to Vanessa's scheming, it's Jackie, but her complaints fell on mostly deaf ears earlier in the week when the Veto was still in play. And then, even after Meg and James started openly distrusting Vanessa, there wasn't much they could do about it. But coming out of this week, it looks like Vanessa's much higher on people's radars than she was previously.
Back to the show, as we saw tonight, the whole house came around to voting out Clay. Live Feed Spoiler Alert: This turnaround happened earlier today when Austin came clean to James about his plans to keep Shelli. We might get to see some of the drama from today on Sunday's episode, but the short version is that Austin used the pre-packaged "Clay made me promise to evict him" excuse. Word spread that they didn't have the numbers to get Shelli out, and Jackie, Meg and Becky reluctantly re-routed their plans. There was even an awkward attempt on Meg's part to smooth things over with Shelli.
The other part of the show involved us being subjected to a make-out scene starring Shelli and Clay. And we got an adorable Hitmen segment featuring last season's Final Two, Cody and Derek. They're still pals. Cody still has no regrets and is a model. Derek has a new deck and a tuition fund for his daughter. Everyone's winning.
Except for Clay. Who was evicted in denim tonight. But he knew it was coming. He flat-out told the houseguests to vote him out. And he was in good spirits with Julie (in specs) for his interview, which involved being put on the spot about whether or not he loves Shelli. He also answered her question about the Meg #BBScandal scene by claiming Meg has showmances with everyone. I think he meant flirtmances, as I don't think Meg's actually showmanced anyone, apart from maybe that kiss with Steve during spin-the-bottle.
The Head of Household competition was a repeat of the slippery comp we've seen in previous seasons, where the houseguests run back and forth in lanes, transporting liquid from a bucket to a bowl in the hopes of freeing a ping pong ball. Last year, this competition earned Derek 5000 hollas, which proved to be an unexpected highlight of the remainder of Season 16. Tonight's competition could offer one player $5000, a Never Not pass, or Head of Household. Or all three, as one houseguest could conceivably go for all the prizes.
And it was not a double eviction, which the houseguests strongly speculated it might be. Previously, we've seen the first double-eviction happen between non-Jury and Jury houseguests, where the first evictee goes home and the second goes to jury. Not tonight, but Julie confirmed it's coming next week. She also announced to the houseguests that going to jury doesn't necessarily mean they're out of the game, which I'm assuming means there's going to be a returning houseguest at some point in the next few weeks.
As of the end of the episode, it looked like Becky was dominating the run back and forth between the liquid and the bowl. Oftentimes, the people who show that lead in the beginning tend to hold it, so this may be her game. But Julia may not be far behind her. We'll get to spoilers on the next page, for those who want an update on who's winning this Head of Household competition...
As you can see, Julia and Becky are very close, and so are Johnny Mack and Jackie, but they're behind the other two.
10:53 p.m. EST: It's looking like Becky is edging out Julia but a noticeable margin.
11:06 p.m. EST: Becky's well into the top half of her bowl and not showing any signs of slowing down. Julia is behind but still not out of range to catch up. (Becky would really have to slow down for that to happen though.)
11:26 p.m. - Becky's bowl is almost full to the top. A few more pours and she should be able to get a ball. She probably has enough of a lead to go for more than one prize if she wants.
11:29 p.m. - Becky has one ball out and is lining up another one. She just hit the Never Not pass. And then she took the $5000!
11:30 p.m. Becky won Head of Household! She also has the two prizes.
Assistant Managing Editor
Kelly joined CinemaBlend as a freelance TV news writer in 2006 and went on to serve as the site's TV Editor before moving over to other roles on the site. At present, she's an Assistant Managing Editor who spends much of her time brainstorming and editing feature content on the site.
Your Daily Blend of Entertainment News
Thank you for signing up to CinemaBlend. You will receive a verification email shortly.
There was a problem. Please refresh the page and try again.