Billy Crystal 'Itchy' To Host The Academy Awards Again, Are You Listening Brett Ratner?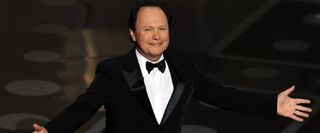 I wasn't alive to watch Bob Hope host the Oscars so I can't make the assumption that Billy Crystal is the greatest to ever MC the awards show... but Billy Crystal IS the greatest host in the history of the Academy Awards. Whatever, I don't need to have seen the 75 years of shows before I was born, I've seen every one since and no one can hold a candle to Crystal. And rumor has it, he's willing to come back.
The L.A. Times caught up with the 8 time host during a 20th anniversary screening of the amazing comedy-western City Slickers in Santa Monica and when asked about the possibility of returning, he sounded more than willing, even using the word 'itchy.' The itchiness resulted from his cameo appearance at the February 27th, 2011 ceremony when he came out to honor Bob Hope and the crowd went suitably gaga for him.
The prospect of Crystal returning to host is nothing short of amazing, especially when he's hinting at possibly doing a few more than just one. Crystal's working on the Pixar prequel Monsters University as well as trying to sort out a film adaptation of his Tony Award winning one-man show 700 Sundays. I know I'll never forget his Hannibal Lecter inspired entrance at the 1991 awards show (I was 7 years old, laughing without knowing why).
Crystal says of the demanding gig that, "it's always fun. It's really hard, but maybe one or two more times? I don't know. They know where I am." Oh, and the they this time around happen to be Brett Ratner and Don Mischer and I hope Ratner has the common sense (of history) to recognize a gift horse and, you know, not pass on it because of some need to be 'new and edgy.'
The 84th Academy Awards will air on ABC, Feb. 26, 2012 from the Kodak Theater in Hollywood.
Your Daily Blend of Entertainment News