The Black Sails Season 3 Trailer Features Violence, Blackbeard And More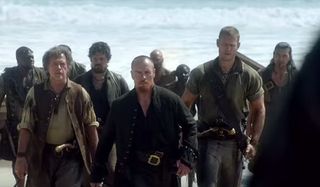 After a relatively slow start, Starz's Black Sails picked up the pace during Season 2. The trend seems to be continuing for Season 3. With a new British dignitary attempting to take over Nassau and the emergence of Blackbeard on the scene, fans are sure to be in for a treat. You can check out the first trailer for Black Sails Season 3, below.
In the latter half of Season 2, alliances changed and danger seemed ever more present to the point where the penultimate episode actually featured a shocking death. A deadly battle ensued in the finale, leading to Nassau getting shot up and Silver getting his leg brutally cut off. After everything went to the dogs in the finale, it's no surprise that Season 3 will see the British government trying to come in and take a foothold in the area; the potential governor even realizes this is a task, noting he'll take over, "if he can subdue [Nassau]."
Luckily for the new guy, he seems to have a secret weapon: Eleanor Guthrie. Last seen in the penultimate episode, she tells the potential governor there is no way he can succeed without a partner who actually knows how Nassau works. This puts Guthrie at odds with Captain Flint once more, but also with Vane, Rackham and the other pilots, who from the trailer still seem to want to be getting ahead. More violence will ensue; we even get to see some brilliant set pieces go up in flames.
The outcome (opens in new tab) of all of this change in Nassau is obviously unclear, but we do know that Black Sails has already been renewed by Starz for Season 4, so this isn't going to be the end of the story, yet. Plus, when Blackbeard pops up in the latter portion of the trailer, wreaking havoc nearly immediately, it just seems like a storyline that could take a while to resolve.
I love that Black Sails mixes historical and fictional characters and I'm really excited to see how they all push and pull against one another when the show returns to Starz. Unfortunately, that won't be happening for a while. While the above is a full trailer for Season 3, the new episodes aren't expected to premiere until January of 2016. Luckily, there are plenty of fall premieres in the interim from Starz and other networks and you can check them out, here.
Reality TV fan with a pinch of Disney fairy dust thrown in. Theme park junkie. If you've created a rom-com I've probably watched it.
Your Daily Blend of Entertainment News
Thank you for signing up to CinemaBlend. You will receive a verification email shortly.
There was a problem. Please refresh the page and try again.