The Top 10 Shows Of 2016, According To Jessica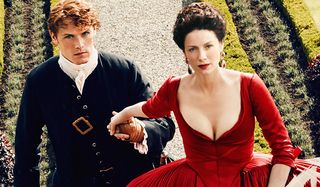 There's been a lot of talk about peak TV in recent years. There's a lot more television available on more formats than ever before, and even as someone who lives and breathes and writes about television, I can't catch every prestige show on Amazon, cable, subscription cable, network TV, Hulu, or Netflix, among others. But I do watch a lot of television. And when I say a lot, I mean a lot. This season there were plenty of great programs that aired--some old standbys that have gotten better as they've aged, and some newer shows. So without further ado, here are my Top 10 picks for 2016.
10. Game Of Thrones, HBO
Prior to its premiere, there was a big question regarding whether or not HBO's sixth season of Game of Thrones would be as top-notch as in seasons past, mainly because the TV series went beyond George R.R. Martin's original written works. While personally, I'm not sure anything will completely beat earlier surprises like Joffrey's death or the Red Wedding, Game of Thrones is still churning out memorable and emotional moments and intriguing plotting. We saw that this season in Sansa's choices with Ramsay and his army or when Hodor held the door for Bran and Meera. Game of Thrones is still among the best shows on television, and I can't wait to see where it goes in Season 7.
9. Atlanta, FX
FX has a penchant for putting together exasperating and sometimes even unlikable protagonists as part of really funny shows. The network's latest series is headlined and co-created by Donald Glover, a hotter than hot property in both the music and acting business right now. In its fledgling outing, Atlanta doesn't always know exactly what it wants to be as a series, but the flavor of the city it is trying to represent and the day-to-day observations of lead character Earn make this one worth watching. If you stuck around for the first few episodes, it gets even more intriguing later on.
8. Brooklyn Nine- Nine, Fox
Brooklyn Nine-Nine has been consistently good from the beginning, but the show kicked things up a notch in 2016, introducing us to characters like Jason Mantzoukas' Adrian Pimento and Ken Marino's Captain CJ. The series also amped things up a notch when the show dealt with criminal mastermind Figgis, which eventually led to Captain Holt and Jake Peralta hiding out in witness protection in Florida and leading to some of the strangest and bravest episodes yet early on this fall. It's hard to know if Brooklyn Nine-Nine has peaked yet, but it still consistently makes me laugh more than any other show on TV.
7. The Night Manager, AMC
I struggled with the idea of putting a limited series on my list. If it were something like Sherlock which comes back every now and again, it might be easier, but The Night Manager was a one and done, gone as swiftly as it came. Months later, however, it's still a show I'm thinking about, with great performances from Marvel actor Tom Hiddleston, Hugh Laurie and Olivia Colman. The miniseries' twisty and turn-y globetrotting plot is half the reason I'd totally be comfortable watching Tom Hiddleston play James Bond, if that were a direction the franchise chose to go in. For now, watch The Night Manager. You won't regret it.
6. Veep, HBO
I'm usually more of a drama fan, but there are so many comedies right now that are figuring out how to get people to tune in every week rather than haphazardly, there's more great funny stuff out there than usual. Watching Selina Meyer run for the office of President in Season 5 and lose was one of the greatest twists of a comedy series ever and all of the moments in between--from Amy and Dan wheeling and dealing Carson City, to the c-word episode and the one in which the Chinese President mistakenly thought she was kissing her daughter were all standouts. Now that Selina has to pick herself back up again, Season 6 should be pretty freaking fun.
5. Red Oaks, Amazon
Red Oaks has one of the most easily likable and digestible plots of any series on this list, but what it offers is a great tone: one of nostalgia and glory and feeling as if the world is at your fingertips--a feeling we don't get that often from television. An homage to eighties films, Red Oaks picks up its second season with David following Skye to Paris and working on his video career there. Things aren't as easy back in the suburbs, but the characters are still being propelled forward into adulthood or, in David's parents' case, divorce. Red Oaks isn't always the most cleverly scripted show on television, but its tone makes you stand up and pay attention. It's can't miss, must-binge TV.
4. Black Sails, Starz
I don't think anyone is really talking about Starz enough. The network is often looked at as a step down from HBO, but between Power, Outlander, Black Sails and others, it is producing some of the most consistently good television right now. Black Sails started a bit slowly but has been producing dynamite episodes for the last two seasons and we expect that to continue into its fourth and final season on the subscription cable network. Give it a watch. The nice thing about subscription cable is that back episodes are usually easy to access, and no show is more exciting than buried treasure, betrayals and the introduction of a really sharp Blackbeard.
3. South Park, Comedy Central
If you've been watching South Park, by now you know the series has figured out how to create through plotlines that tie all of the episodes of a season together. That might seem like a small thing, but the result has been a series with far clearer direction and more memorable jokes. This year had the added benefit of being an election year, and I don't think I'll ever forget an orange-faced Mr. Garrison facing off against Hillary Clinton or the wild nods to sports icons choosing not to stand for the National Anthem. If all South Park did this year was inspire signs at sports events like this, it would probably still make my top 10, but Season 20 was bigger and bolder in so many ways and even hit an f-bomb milestone. Member Dildo Schwaggins?
2. Outlander, Starz
It's been a long hard few years of trying to get romantic shows like A to Z and this year's No Tomorrow to stick. However, apparently what works is throwing a Scottish Highlander into a wild time travel plotline featuring a nurse post WWII traveling to the 18th century and trying to change history. The show has the big budget, the appealing characters and the epic storyline, but what makes it really stand apart from almost everything else on TV is its engaging love story. In Season 2 of Outlander, Claire and Jamie also spent a good chunk of time in France, plotting to put down the Jacobite Rebellion, which meant the fashion was to die for. Be still, my beating heart.
1. Westworld, HBO
Westworld has been a series that has geared itself toward a slew of big reveals. While some of those in Season 1 were hypothesized by fans before they eventually worked themselves out on the freshman drama, there was a lot to like about the new show, including the world it built and the directions its characters could still go in. Part of the reason Westworld may have worked so well in Season 1 is because we were left in confusion for most of the first season and the big reveals, even when discussed by fans prior, were still well done. There's no series that was more appealing or exciting in 2016, even in its slowest moments, and there's no series that I'm anticipating more coming up. If that's not the mark of a good series, I don't know what is.
Close but no cigar: This is Us, The Expanse, Speechless, Halt and Catch Fire, Poldark, Silicon Valley, The Crown
Big Shows I missed: Pitch, Stranger Things, Luke Cage, Rectify
Amazing Race & Top Chef superfan with a pinch of Disney fairy dust thrown in. If you've created a rom-com I've probably watched it.
Your Daily Blend of Entertainment News
Thank you for signing up to CinemaBlend. You will receive a verification email shortly.
There was a problem. Please refresh the page and try again.