12 Shows You Should Stream If You Like Outlander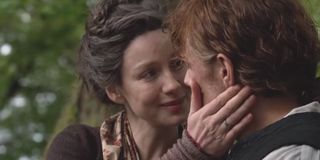 There's no doubt about it, Outlander, the steamy Starz series about a woman who mysteriously travels back in time from the 1940s to the 1700s is one of the most talked about shows on television right now. And there's a pretty good reason for that, or four reasons for the show's continued success even now in its fifth season.
Ever since we were first introduced to Claire Randall (Caitriona Balfe) and her Highland warrior husband, Jamie Fraser (Sam Heughan), we haven't been able to get enough of this love story of epic proportions, its steadfast attention to historical details, the visceral battles, and yeah, all of that steamy sex that fills each episode like fog on the Scottish landscape.
But what happens when you get all caught up on Outlander and you want something else to watch on the ever-growing list of streaming services? Well, we've gone through each of those platforms and found the best series that have one or more key similarities to the period drama and come up with a list of shows that even every Outlander fan should watch.
Game Of Thrones (HBO)
What it's about: Game Of Thrones, the highly praised-turned-polarizing epic HBO fantasy series, tells the stories of the different houses throughout the fictional continents of Westeros and Essos who are all fighting for the Iron Throne and control of the Seven Kingdoms.
Why Outlander fans would like it: Much like Outlander, Game Of Thrones was filled to the brim with gruesome battles of epic proportions, multiple love stories that ebbed and flowed with the currents of the story, and oh yeah, all of that steamy sex that, especially in the first three seasons. The show pulls on your heartstrings while jabbing a knife in your back.
All eight seasons of Game Of Thrones are currently available on HBO.
The Witcher (Netflix)
What it's about: The Witcher, which is based on the series of novels by the same name, tells the story of Geralt of Rivia, a monster hunter, as he looks for meaning in his life while battling ferocious monsters, beasts, and the most evil of all creatures, humans.
Why Outlander fans would like it: If swordsmanship and racy sex scenes are your bag, then look no further, as The Witcher essentially follows a pattern of violence and sex throughout much of its first season. Fans of Outlander's sometimes violent love scenes will be at home in this fantasy series.
The first season of The Witcher is currently streaming on Netflix.
Black Sails (Hulu)
What it's about: Less on the fantasy side with more of a focus on pirates and seafaring adventures, Black Sails tells of the adventures of Captain J. Flint and his crew of pirates as they fight for survival, and treasure, on and around the New Providence Island in the Bahamas in the early 18th Century.
Why Outlander fans would like it: Much like the fellow Starz show that would follow in its footsteps, Black Sails has enough heart-stopping action and sometimes complicated storylines. And while it doesn't have as much romance or steamy sex as Outland, this pirate adventure makes up for it with loads and loads of violence.
All four seasons of Black Sails are streaming on Hulu.
Poldark (PBS)
What it's about: What's worse than returning as the defeated party in a war? Captain Ross Vennor Poldark finds out firsthand in the PBS Masterpiece series, Poldark, when the Redcoat comes home from the American Revolutionary War to find his estate in disrepair and his true love on the arm of another man.
Why Outlander fans would like it: Much like Outlander, this series focuses on someone whose undying determination gets them through one of life's most taxing moments. As Poldark overcomes the pain of heartbreak, he falls in love once more and starts his journey of recovery.
All five seasons of Poldark are streaming on PBS.
The Tudors (Hulu)
What it's about: Long before shows like Outlander and Game Of Thrones took audiences back to distant lands set centuries in the past, the Showtime series The Tudors showed viewers what is like to live in during the Tudor dynasty in England. This historical drama mostly follows the reign of King Henry VIII (Jonathan Rhys Meyers), his multiple wives, and the political intrigue of the time.
Why Outlander fans would like it: Like any good historical drama on a premium cable channel, The Tudors is full of the romance, politics, and violence that would later draw fans to shows like Outlander. If you're into keen attention to detail, love scenes, and gruesome deaths, here's a show to watch when you're finished with Claire and Jamie's love affair.
All four seasons of The Tudors are streaming on Hulu.
Westworld (HBO)
What it's about: Westworld, the hit HBO science fiction western series is set within the confines of a technologically advanced theme park where androids, aka "hosts," who are subjected to all forms of treatment - both good and bad - by the park's wealthy guests. As the show progresses, however, the hosts begin to remember their past abuses and start a revolution in the process.
Why Outlander fans would like it: You might think that a show about sentient cyborgs in the near future wouldn't appeal to viewers of Outlander, but Westworld is anything but your standard science fiction action series. With plots of revolution, the ethical treatment of the working class, and some of the most epic battles on television, this show has it all. Give it a shot with the March 2020 Season 3 debut of Westworld.
All episodes of Westworld are streaming on HBO.
Modern Love (Amazon Prime)
What it's about: In the fall of 2019, Amazon unveiled one of its most heartwarming and heartbreaking romantic shows with the anthology series Modern Love. Each of the first season's eight episodes focusses on a different person experiencing a unique form of love. With everything from sex, platonic relationships, and self-love, this romantic comedy has something for everyone.
Why Outlander fans would like it: Modern Love doesn't have the historic details, epic battles, or fantasy elements that Outlander boasts, but this intimate collection of love stories has all of the steamy sex and emotional beats of the hit Starz drama. If you're looking for a short stories about the highs and lows of falling in love you've met your match here.
The first season of True Romance is streaming on Amazon.
Life On Mars (BritBox)
What it's about: Much like Outlander, the classic BBC series Life On Mars centers around a British detective who is transported from 2006 to 1973 following an accident. This supernatural drama doesn't let up on what's actually happening to the police detective Sam Tyler (John Simm) until the show's final episode, leaving both the character and the audience trying to determine what is actually happening.
Why Outlander fans would like it: Fans of Outlander who like the fantastical time travel elements will enjoy watching this science fiction police procedural as the two shows share some commonality in that regard. Life Of Mars also grants the viewer a chance to figure things out on their own, much like Outlander when Claire is trying to figure out how she was sent back in time and if she can go back.
Both seasons of Life On Mars are streaming on BritBox.
Vikings (Hulu)
What it's about: Currently in its sixth and final season, Vikings takes inspiration from the stories about viking Ragnar Lothbrok (Travis Fimmel) as well as the journeys of his sons as they continue in their father's legacy as one of the most legendary and notorious warriors to walk the earth.
Why Outlander fans would like it: Anyone who enjoys the hectic and bloody battles carried out by Jamie Fraser and his fellow Scots in Outlander should take an interest in this historical drama about the heroics and dastardly deeds utilized by the vikings. In addition to graphic battles, Vikings has been known to have its fair share of sex scenes as well.
The first five seasons of Vikings are streaming on Hulu.
Spartacus (Starz)
What it's about: Based on the historical figure of the same name, the Starz series Spartacus tells a fictionalized version of the classic story of a slave who led a slave rebellion against the Roman Republic. The series focuses mostly on the early life of Spartacus as a gladiator before leading the revolt, and is filled with more than enough sickening violence and nudity to go around.
Why Outlander fans would like it: Spartacus did not hold back on anything during its three-season run back in the early 2010s, and the events of each episode were discussed at length due to the viscerally realistic depictions of violence. Fans of Outlander who like the blood, guts, and death of combat should give this series a go.
All three seasons of Spartacus are streaming on Starz.
Rome (HBO)
What it's about: Rome was a short-lived HBO historical drama based on the transitional stage in Rome's history where the civilization was transitioning from a Republic to an Empire. Much of the show's first season focusses on the rise and fall of Julius Caesar, starting with his civil war and ending with his assassination on March 15, 44 BC. The second and final season turns its attention to the power struggle following Caesar's death.
Why Outlander fans would like it: Fans of Outlander's attention to historical details will appreciate the high production value of this HBO drama. Not to be outdone, the show also has multiple bloody action sequences and just enough romance to hold your over.
Both seasons of Rome are streaming on HBO.
When Calls The Heart (Netflix)
What it's about: When Calls The Heart follows the story of Elizabeth Thatcher (Erin Krakow), a young school teacher who is lifted from her life of luxury and dropped in a small coal-mining town in Western Canada in 1910. In order to survive, Elizabeth must learn the ways of the frontier and make a life of her own.
Why Outlander fans would like it: Fans of Outlander's "fish out of water" premise will get a kick out of this period piece set in the early 20th Century. Instead of focusing on overly sexualized romantic encounters, When Calls The Heart makes up for it with enough death and heartbreak to make you want to keep a box of tissues within reach.
The first five seasons of When Calls The Heart are streaming on Netflix.
Hopefully this list helps you discover some new and exciting shows that will surely fill the void left in your hear between each episode and seasons of Outlander. If there are any other shows you think would compare, let us know in the comments.
Philip grew up in Louisiana (not New Orleans) before moving to St. Louis after graduating from Louisiana State University-Shreveport. When he's not writing about movies or television, Philip can be found being chased by his three kids, telling his dogs to stop yelling at the mailman, or yelling about professional wrestling to his wife. If the stars properly align, he will talk about For Love Of The Game being the best baseball movie of all time.
Your Daily Blend of Entertainment News
Thank you for signing up to CinemaBlend. You will receive a verification email shortly.
There was a problem. Please refresh the page and try again.