The Explosive Way Black Sails Kicked Off Its Final Season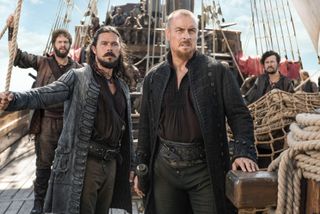 (Image credit: Photo courtesy of Starz)
Spoilers for tonight's episode of Black Sails can be found throughout this article. If you'd like to go into the episode fresh, please check out one of our other excellent articles.
The bromance between Captain Flint and the newly dubbed Long John Silver has been growing over the last several seasons of Black Sails, and the Season 4 premiere kicked off with Silver admitting he hadn't wanted to kill Flint in months. There wasn't much time to crack morbid jokes, however, as the final season picked up with the pirates attempting to take on the British with flawed information given by Billy Bones. It soon became clear that the Brits sunk ships to force Flint's fleet to run aground, leaving Teach's ship to turn away and avoid the carnage. Men died and drowned before the few that were left escaped on rowboats to hunker down and plan on how to takeover Nassau once more.
Black Sails has always been a series that is impressive not just for its scope and character development, but also for its practical sets. Watching the men get torn apart by cannon blasts and fight at close quarters is seen in full here. The fighting was brutal. One particular swordfight had Rackham in close quarters with an unyielding British soldier who stabs with ferocity. He's set up to die but conveniently has a gun on hand, shooting the soldier in the face. Still, it was a near miss for the scrappy pirate, and it was quite exciting.
Surprisingly, while there was major bloodshed in the episode, our heroes---or antiheroes, rather---mostly came through unscathed. After Season 3 finally saw Vane's story play out, it seemed as if the final 10 episodes would simply be about pirates fighting in vain to maintain some semblance of a position in Nassau. We know from history that Nassau was eventually taken back by the British government---and with great help from Woodes Rogers. We also know from Treasure Island that Long John Silver won't perish at the hands of the Brits. In fact, Black Sails is setting up neatly to line up with the events in the famous children's book. The treasure has already been buried and Flint was not crazy about telling Billy Bones or others the hiding place this week.
Although we already know the fates of some of the characters, the fact that Black Sails has always intermixed fictional characters with historical figures like Rackham and Blackbeard has elevated the plot considerably. The future may be inevitable, but seeing the brave underbelly of society fight hard against the tide has always been the fun part. While I was really missing Charles Vane during this episode, the action was still picking up in his wake, and Rackham and Anne Bonny won't be forgetting the man anytime soon, despite trying to move forward without him.
This was a rockier start to the season in terms of storytelling than the past two openers for Black Sails (opens in new tab), but Season 4's "XXIX" truly feels different in tone. It finally feels like we are getting to the end of something, although Black Sails is not going to be a series that goes gently into that good night.
New episodes of Black Sails air on Sundays--new night!-- at 9 p.m. ET, only on Starz. Be a bonny lad or lass and tune in for this one.
Your Daily Blend of Entertainment News
Reality TV fan with a pinch of Disney fairy dust thrown in. Theme park junkie. If you've created a rom-com I've probably watched it.
Your Daily Blend of Entertainment News
Thank you for signing up to CinemaBlend. You will receive a verification email shortly.
There was a problem. Please refresh the page and try again.