Blythe Danner, Sarah Bolger And Madeline Zima Join ABC Pilot Gilded Lilys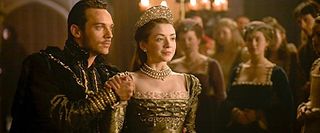 Casting is rolling along for the KJ Steinberg period project over at ABC, with three names announced for the pilot. Gilded Lilys, which is written and executive produced by Steinberg with Shonda Rhimes executive producing, has brought on board Blythe Danner, Madeline Zima, and Sarah Bolger, all faces familiar to Showtime viewers.
Deadline carried the casting news for the pilot, which is set in 1895 and so should see these poor ladies laced into perhaps the most painful undergarments in history, corsets. The story is based in an early luxury hotel in New York City and in a format familiar to Downton Abbey fans, centers on the lives of the rich Lily family who own the hotel, the servants who surround them, and the drama of their interactions.
Blythe Danner, who has popped up on Showtime's Huff and Nurse Jackie in recent years, is set to play Caroline Lily, an outspoken widow and matriarch of the family. Her daughter Violet will be played by Sarah Bolger, no stranger to period dramas and corsets since she played Mary Tudor on The Tudors at Showtime. And to round out the Showtime trio we have Madeline Zima of Californication, who has been cast as a lady's maid to Violet.
As a fan of period shows, I want to have hope for this project, but the inevitable comparisons to Downton Abbey give it a tough beginning out of the gate. Can Gilded Lilys manage to rise above the already rampant public opinion that it's merely an Americanized derivative of the PBS hit?
Your Daily Blend of Entertainment News
Your Daily Blend of Entertainment News
Thank you for signing up to CinemaBlend. You will receive a verification email shortly.
There was a problem. Please refresh the page and try again.