Boardwalk Empire Renewed For Season 4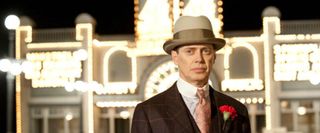 Considering how violent the bootlegging business can be, many characters might not make it to the end of the third season of HBO's Boardwalk Empire but those that do survive will live to fight (and possibly get whacked) in the recently announced fourth. That's right, Nucky Thompson's battles for control over the booze racket in Atlantic City won't be coming to an end anytime soon with the critically acclaimed drama already awarded another year after only three episodes of the current season.
Michael Lombardo, president of HBO Programming, delivered the not so surprising news of the series' renewal earlier today and I say not so surprising since Boardwalk is not only coming off four Emmy wins* but also strong numbers to start Season 3. According to the announcement, Boardwalk Empire's premiere three weeks ago garnered 7.2 million viewers, a number that (is below the 8.6 average last year but) will only continue to grow as reruns are broadcast not to mention after the inevitable DVR, HBO On Demand and HBO GO views are considered.
From Terrence Winter and Martin Scorsese, the prohibition drama starring Steve Buscemi (SPOILERS) has suffered since offing Michael Pitt at the end of the second season but hopefully this renewal will allow the program time to build another rivalry as personal and intense as the relationship between the former's Nucky and the latter's surrogate son Jimmy. The show even acknowledged the lingering effects of the loss with last Sunday's (at times surreal) episode concentrating on how several characters are coping with his disappearance all while building up Bobby Cannavale's Gyp Rosetti as his replacement. I wonder is the new gangster on the scene will make Season 4?
Boardwalk Empire returns with Episode 4, "Blue Bell Boy," Sunday at 9 p.m. ET on HBO. Created by Terence Winter, it stars Steve Buscemi, Kelly Macdonald, Michael Shannon, Shea Whigham, Vincent Piazza and Michael Stuhlbarg.
*Outstanding Directing for a Drama Series for Tim Van Patten, Outstanding Art Direction for a Single-Camera Series, Outstanding Cinematography for a Single-Camera Series and Outstanding Special Visual Effects in a Supporting Role.
Your Daily Blend of Entertainment News
Thank you for signing up to CinemaBlend. You will receive a verification email shortly.
There was a problem. Please refresh the page and try again.