Boardwalk Empire Season 3, Episode 6 - Ging Gang Goolie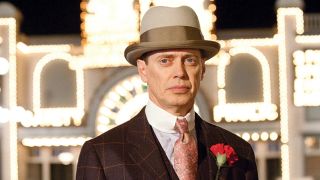 (Image credit: HBO)
Last week's episode of Boardwalk Empire served as a microcosm of the third season so far as "You'd Be Surprised" featured many fantastic scenes set an otherwise unfocused story. The series is facing an increasingly sprawling world, with more and more characters entering the battle over booze and vying for precious amounts of screen-time.
Several events at the end of the fifth installment, however, suggest the show is working to bring all the disparate parts together for a more cohesive second half of the season. Now, if we could only get rid of Nucky's love story, we'd be set. Too bad it looks like his wife, not his mistress, is the one in danger during "Ging Gang Goolie." Here's the preview.
The trailer certainly makes "Ging Gang Goolie" seem exciting but, well, all of the previews this season have done a great job making the episodes in question look intense when in fact they've all burned quite slow. I know, misleading trailers? Never! I will say that the sequences showing Margaret in danger have me a little on edge (even with Owen possibly in the picture) and Eli on the hunt for Gyp also looks really promising.
I wonder what Gillian intends to do with the Jimmy lookalike, especially since her financial concerns could be alleviated if her son was 'officially' dead. Could she be in the market for a switcheroo or just someone to fill the void other than Lucky? It's obviously also great to see Richard return and I'm curious if/how the medal might play into Gillian's plans. And finally, as I noted on Sunday, with the heat on Attorney General Daugherty to make a bust, Nucky is quick to press upon the man that if he tries anything fishy, they are going down together.
Boardwalk Empire returns with Episode 6, "Ging Gang Goolie," Sunday at 9 p.m. ET on HBO. Created by Terence Winter, it stars Steve Buscemi, Kelly Macdonald, Michael Shannon, Shea Whigham, Vincent Piazza and Michael Stuhlbarg. Oh, and if you're curious, "Ging Gang Goolie" is the name of an old Boy/Girl Scout song.
Your Daily Blend of Entertainment News