Boardwalk Empire's Season 4 Premiere Could Have Used A Little Margaret Thompson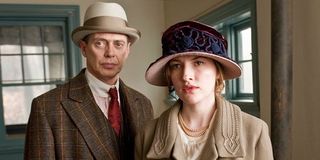 Boardwalk Empire has predominantly been a show about bootleggers, gangsters, and illicit activities. It's a big boys club, and for the most part that has been perfectly alright. Then, last season, Kelly Macdonald's character, Margaret Thompson, blossomed into an even more complicated woman that fell in love with someone else and got into the women's rights movement, teaching prenatal care classes. Her voice became a welcome counterpoint. Unfortunately, she didn't show up last night. Boardwalk Empire sorely missed Margaret in its first episode, and the Season 4 opener was worse because of it.
When last we saw Margaret, she had decided to leave Nucky and pursue her own interests, taking the children with her. Macdonald is still receiving a good billing in the opening credits, but in the first episode, she was nowhere to be seen, and it's hard telling when she'll actually pop up into the plot again. This week, we even saw Nucky tell a young woman he's a "bachelor," so even though we already know that marriage ended, the man seems to be settling into a new routine.
It may seem as if losing Margaret in the first episode might streamline the plotlines somewhat, but it actually just serves to make Nucky a less attractive character. Margaret provided the warmth and compassion in their relationship, buoying up his status in the Atlantic City society and forcing him to make inroads with his brother's family (things, by the way, seem to be going swell on that front). She was the counterpoint to his coldness and provided a bit of stabilization to the show's core, plus she was a well-developed character that has continued growing since the show's inception. Without Margaret, Nucky's living in a shady motel and trying to make land deals. Not fun.
It doesn't help that most of the show's feminine spunk was lost in the season opener. Nucky's mistress, Billie, who was youthfully invigorating with a touch of sadness throughout her tenure on the show, also was killed off before the Season 4 opener. Even Chalky's daughter, who offered a little attitude last season and gave us some added insight into the man's home life, doesn't pop up. This leaves us with Gillian Darmody (Gretchen Mol), a complicated character who has always been deliciously hate-able on the show. In the season opener, she's not even really up to her usual hijinks. Instead, she's turned into a totally lifeless drug addict.
The only women we do get are two forward women looking to score and causing trouble with Nucky and Dunn (Erik LaRay Harvey), neither of which contribute anything in the way of interesting or well-developed female personalities during the first episode.
Typically, a season opener is just an introductory episode, and Boardwalk Empire's openers have been notoriously slow, tying up the loose ends left over from last season. As the series moves forward I want to see the men cut deals and accomplish the bootlegging that they do best, but I doubt that Season 4 will achieve any sort of balance until we get to see exactly what Margaret and the kids are up to. Or, at least introduce some females with a little drive, a little attitude, and a few skill sets.
HBO's Boardwalk Empire airs Sunday nights at 9 p.m. ET.
Your Daily Blend of Entertainment News
Reality TV fan with a pinch of Disney fairy dust thrown in. Theme park junkie. If you've created a rom-com I've probably watched it.