Boardwalk Empire's Third Season Picks Up 15 Months Later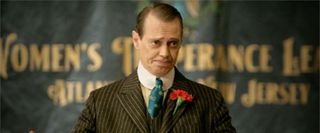 After the shocking and decisive event events of last December's second-season finale, it was clear that whatever the shape of Boardwalk Empire's third season, it would be a very different show. Now the show's cast and crew have provided a few hints about what is to come, courtesy of an appearance at Hollywood's Leonard Goldenson Theatre last Thursday night. Deadline reported on the appearance, which included creator Terrence Winter alongside actors Steve Buscemi (Nucky Thompson), Michael Shannon (Agent Van Alden), Kelly Macdonald (Margaret Schroeder), Vincent Plaza (Lucky Luciano), Gretchen Mol (Gillian Darmody), Michael Stuhlbarg (Arnold Rothstein), and Michael Kenneth Williams (Chalky White).
The first big reveal? The show will pick up over a year after the events of the previous finale. Specifically, Winter says it will begin on New Year's Eve 1922. "The world has changed quite a bit," said Winter. "Things have gotten quite a bit more violent as Prohibition has gone on and people are running out of liquor. Hence Nucky's world's going to change." The show's creator added that these changes will include the ascendance of Al Capone and other gangsters.
Among the other details revealed was one slip of the tongue that may have given away more than was intended. Michael Shannon, who plays fallen Prohibition agent Van Alden, said at one point that it was "Time to be someone else." Deadline describes the comments are earning him "sharp looks from Winter and Steve Buscemi." Does that mean Shannon will be returning to the show in a different role? It's certainly not unprecedented, not even on critically acclaimed period HBO shows. Actor Garret Dillahunt played Jack McCall, the killer of Wild Bill Hickock, in the early episodes of Deadwood, then returned later to play a sadistic lackey of George Hearst. Sounds like Shannon may have something similar in the works.
Boardwalk Empire will return for season three this fall on HBO.
Your Daily Blend of Entertainment News
Your Daily Blend of Entertainment News
Thank you for signing up to CinemaBlend. You will receive a verification email shortly.
There was a problem. Please refresh the page and try again.