Boardwalk Empire Watch: Season 4, Episode 9 - Marriage And Hunting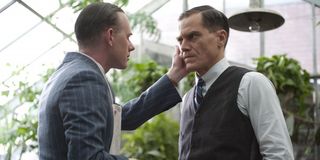 CITY CLERK Marriage & Hunting LICENSES 8 am to 6 pm
The fourth season of Boardwalk Empire has been fantastic. The same way each additional year of The Wire was retroactively identified by their respective setting or conflict ( 'The Docks,' 'Hamsterdam,' 'The School' and 'The Newspaper'), Season 4 of HBO's new illegal drug drama will be known for bringing Harlem into the battle. And the show as a result, as I said, has been both narratively compelling and thematically rich. As the title suggests, the theme this week was marriage (and hunting) as the episode explored several couples in different stages of their vows while also picking up and advancing a bunch of loose threads. Last week's "The Old Ship of Zion" was an especially focused installment meaning that a lot of Boardwalk's main characters didn't see any screen time and, for the most part, "Marriage and Hunting" touched base with those that were missed. Like Richard and Julia, the couple that the title references most directly...
"It's just a hunting license, isn't it?"
The trial for custody of Tommy is still ongoing and Richard's appearance in the middle of Gillian's statement seemed to rattle the paternal grandmother a little bit. Mrs. Darmody was able to finish stating her case before Julia talked some sense to the court. Of course, the Judge was quick to point out that not only was it common for the children to wind up back with blood relations but also that Ms. Sagorski was not married. At the mention of blood, my mind went to Richard getting rid of Gillian to ensure Tommy's safety. He's a do-what-it-takes kind of guy and, despite his recent spiritual journey that saw him shy away from violence, he did wind up at Nucky's doorstep looking for work. I may mixed feelings about that because I love the idea of him being Nuck's new right hand man (now that Eddie's gone and Eli's... well, more on that soon) but that is also sure to lead to conflict between him and his new bride. Speaking of ideas I love, I was so happy to see Richard and Julia get hitched, especially since she was the one to propose. A Sagorski, a Darmody and a Harrow. Quite the family.
"I know... You too... won't be much longer. Yes. That'll be fine, sir. I will take care of that immediately."
The next thread may not seem to have anything to do with marriage unless my suspicions about Roy Phillips are confirmed in the coming weeks. I mean, does anybody think that he actually went through with the divorce proceedings with his wife? I'm sure that was her on the phone, if not his wife then surely another woman, and whatever their grift is, it has specifically to do with Gillian. It can't be a coincidence that he showed up at her place that day, we'll just have to wait at least another week to find out what he's planning. In the meantime, Roy is doing a significant amount of good for the former heroin addict, getting Gillian off drugs which also keeps her from having to deal with all the other accompanying seedy elements. Boardwalk and Gretchen Mol continue to do the unthinkable this season by making me feel even more sympathy for a character I have always despised. Will Roy use some of those secrets to his advantage? Is this somehow connected to Jimmy's doppelgänger? She kept a few things to herself at least.
"Cause I don't have the stomach for it."
Even the story lines that had seemingly nothing to do with marriage threw in a nod to the institution, like Arnold Rothstein asking his valet whether or not Mrs. Rothstein had retired for the evening. He seems almost as lonely as Nucky so it's not surprising for the two to strike up what looks like a warm (at the moment) partnership over talk of offing Mickey Doyle. When Nuck offered a plug nickel to save the imbecile he'd be glad to get rid of's life I laughed out loud. Once again though, the weasel has seemingly survived to snicker another day. I also loved the rhythmic opening of the scene created by him endlessly chalking up his pool cue. The talk also raises an important question for everyone on Boardwalk: when will your luck run out? We saw Eli's run out (again) in an instant last week and judging by the brief encounter with Nucky during "M&H," he took the deal as offered. Willy is okay. With the focus on marriage, I'm surprised June didn't make an appearance, especially given Eli's new circumstances but the series probably wants to let that 'mystery' stew. Oh, and Sally and Nuck are still feeling each other out, the former as enigmatic as ever. That's a big gun. "Well take him off. That solve the problem right there."
Chalky may have come within inches of his death during "The Old Ship of Zion" but his problems are just beginning. The husband and father (of the bride), has got a lot on his plate, the least of which is the ongoing feud with his 'Libyan' brother Dr. Narcisse. The Harlem gangster tried to get rid of his Atlantic City rival for good last week, however, it was Dunn who ended up in the ground thanks to Daughter's double-cross. Triple-cross? Whatever. The femme fatale lived up to her name, earning a (disturbingly) bruised face because of it, and now the battle is about to become a war. Only Nuck isn't exactly ready to rally behind Chalky. Then again, Chalky can't offer Nucky something like the Onyx in payment. This is a fight the AC boss would like to avoid, especially because he doesn't know who Narcisse is in bed with besides Cotton Club owner Oweny Madden. He's bad enough. Of course, when Narcisse threatened Chalky to Nuck's face, it looked liked that might be enough to get the Thompson crew in the fight. We'll see. For now, Chalky better worry about his affairs at home because his real daughter discovered other Daughter. Not that his wife is blind to her husband's indiscretions.
"My name is Nelson Van Alden. Take off your nightgown."
We didn't get any George Mueller last week but "Marriage and Hunting" more than made up for it with one of the most MIchael Shannon heavy installments in some time. Perhaps ever. And boy was it rad. The episode opened with Nelson (that's right, NVA!) still having problems at home with the home he built and this is causing Sigrid to give him shit. Remember his first wife? Yikes. Sigrid's complaints are at least valid and there is obviously a real passion there, let's just hope he doesn't bring back the self-flagellation. At work, O'Banion starts asking him questions about a truck that went missing and guy who got shot the night he went out with the Capones just before sending Nelson out on a delivery for DOB. Ha. Nelson offers his services for the hit on O'Banion but runs into a some old co-workers holding a grudge. Don't bring a sap to a gun party, Phil! The Capones aren't pleased with the delay but give him one more chance and the hit goes down later that night. RIP DOB. Oh, and if you want to see another side of Shannon, here he is in a Spike Jonze and Chirs Milk directed, Lena Dunham written live short from the YouTube Music Awards. Yep.
"Don't get lost in the fog now."
Boardwalk Empire returns with Episode 10, "White Horse Pike," next Sunday at 9 p.m. ET on HBO. Created by Terence Winter, the series which has already been renewed for a fifth season, stars Steve Buscemi, Kelly Macdonald, Michael Shannon, Shea Whigham, Vincent Piazza, Anatol Yusef and Michael Stuhlbarg.
Your Daily Blend of Entertainment News
Thank you for signing up to CinemaBlend. You will receive a verification email shortly.
There was a problem. Please refresh the page and try again.