Bob Newhart Will Guest Star On The Big Bang Theory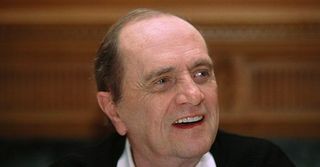 The Big Bang Theory is set to get a visit from a classic TV comedian, but he won't be bringing Larry, his brother Darryl, or his other brother Darryl. Bob Newhart will be appearing in an upcoming episode of CBS' hit comedy, marking his first half-hour comedy role in close to ten years.
TV Line says the comedian will be playing a very important person from Sheldon (Jim Parsons)'s childhood. He's Professor Proton, a man who hosted a science-based television show Sheldon loved when he was a kid. It also sounds like by the end of the episode we'll find out what role the Professor also played in Leonard's life. In order to get Professor Proton in to the picture, Sheldon will learn he can book his icon for an event and arranges to have him come to his home.
Bob Newhart is one of the few actors to have had hit television shows under his belt, numerous time--both of them self-titled. He's earned six Emmy nominations for Newhart and The Bob Newhart Show. He's done guest starring roles on a number of series in the past decade, including ER, Desperate Housewives and NCIS, but in spite of his background in comedy he hasn't popped up on any of today's hit sitcoms until now.
The Big Bang Theory, also an Emmy-nominated series, remains one of the highest-rated comedies on television today, and is currently in its 6th season. The show returns to CBS on April 4th with new episodes, and Bob Newhart's episode is slated to air on May 2.
Your Daily Blend of Entertainment News
Thank you for signing up to CinemaBlend. You will receive a verification email shortly.
There was a problem. Please refresh the page and try again.