Bobbi Kristina Brown Cast In Tyler Perry's For Better Or Worse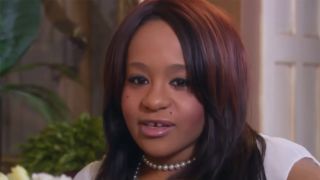 (Image credit: OWN)
Whitney Houston's daughter is trying out a career in acting, and she will start with a role in Tyler Perry's For Better or Worse on TBS. Bobbi Kristina Brown, who recently talked to Oprah Winfrey about her mother's death and her plans to continue in her footsteps as an entertainer, has been cast in a recurring role on the series.
People reports that Brown will join the cast of For Better or Worse in the series' second season. It will be her first acting gig; she has only appeared as herself on television in the past, in the documentary Being Bobby Brown and in her recent Oprah interview. The death of Whitney Houston last month put a spotlight on Bobbi, her only child from a troubled marriage to Bobby Brown. I have to wonder how much of that spotlight and the public curiosity about Bobbi Kristina led to the decision to cast her. Certainly it will bring in some viewers who want to see whether she has her mother's gifts.
There is no word on what role she will play on the series yet, but the family comedy's second season will premiere in July, so there are only a few more months to wait. Bobbi Kristina has also expressed an interest in a singing career, but apparently she will be taking on acting first. Tyler Perry was a friend of Whitney Houston, and one of the speakers at her funeral, so his casting of her daughter is no surprise. Let's just hope he isn't throwing her into the fire.
Your Daily Blend of Entertainment News