Borgias Season 2 Trailer Contains Plenty Of Backstabbing And Boot-Knocking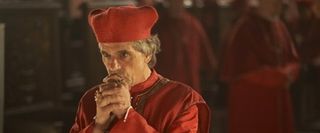 I was really looking forward to Showtime's The Borgias leading up to its premiere last year. Partly that was because of the involvement of Jeremy Irons in the role of the thoroughly corrupt Borgia patriarch, Rodrigo (also known as Pope Alexander VI). Partly it was because the show was exec produced by several people responsibly for Showtime's excellent The Tudors. And partly it was because I knew a lot about the Borgia clan thanks to my having spent several Assassin's Creed games wandering around Renaissance Italy and trying to stab them in the face.
Imagine my disappointment, then, when I literally had a hard time staying awake during the show's premiere episode April. Despite all the elements being there for it to be right up my alley, it was just...so...slow. Thankfully, a friend's recommendation convinced me to give the show a second chance a few episodes later, and The Borgias managed to pick up the pace for much of the season. I'm hoping that momentum continues for season two, and this new trailer definitely looks promising. Let's face it, if you make the story of the Borgias boring, you're clearly not doing it right.
The Borgias returns to Showtime for season two in 2012.
Your Daily Blend of Entertainment News
Your Daily Blend of Entertainment News
Thank you for signing up to CinemaBlend. You will receive a verification email shortly.
There was a problem. Please refresh the page and try again.