Bravo Gets Into Scripted Programming With Former ABC Project The Joneses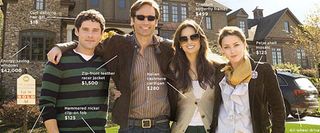 A couple of years ago, David Duchovny and Demi Moore worked on an indie flick about a fake suburban family that pushed product placement on its upper class neighbors. The movie, called The Joneses, failed to make a huge splash in the film world, but it did eventually catch the eye of ABC, which decided to give the project a TV run. Unfortunately, that idea also failed to find a niche with certain network executives and the project was shelved until Bravo recently encountered it.
Bravo has some great programs that earn big ratings for the network—most notably the food-related competition Top Chef and the shows in the Real Housewives franchise—but the network has never really pushed scripted products very hard. It comes as a little bit of a surprise the cable station would jones to pick up The Joneses pilot, but that is exactly what is happening. According to Deadline, Bravo has nabbed the project from ABC with the Echo Lake production company, as well as Mary Beth Basile, Gary Fleder, and Liz Tigelaar set to executive produce.
If the project succeeds, it could give Bravo the push it needs to be a contender in the scripted realm. Additionally, Revenge, Life Unexpected, and Once Upon a Time fans will be happy to see writer and producer Tigelaar get another chance at executive producing a show. I hope this one makes it to series, because it's had enough of a bumpy, rollicking ride to get to where it is now. Maybe a name change would be the best ticket to success.
Your Daily Blend of Entertainment News
Thank you for signing up to CinemaBlend. You will receive a verification email shortly.
There was a problem. Please refresh the page and try again.