Breaking Bad's Betsy Brandt Joining Masters Of Sex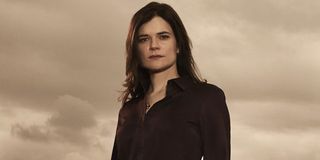 Marie Schrader will be taking her purple show on the road. The Breaking Bad actress known as Betsy Brandt has nabbed a recurring role on Showtime's Masters of Sex for its upcoming second season, recurring alongside the series' stars Michael Sheen and Lizzy Caplan.
Brandt's character is named Barbara, the new secretary to Dr. William Masters (Sheen). It's a roll that's been filled many times over on the series (Masters is quite the prickly boss), first by Margo Martindale's Miss Horchow, then Caplan's Virginia Johnson, before Jane Martin (the delightful Helene York) reeled him in, and ultimately Masters' wife, Libby (Caitlin Fitzgerald) took up arms. All the other actresses (save Martindale) serve larger functions on the series.
Brandt's recurring role is not the only new one announced for the series thus far, singer and actress (and Akeelah and the Bee star) Keke Palmer has also been tapped to recur on the second season. Slated to play Coral, Palmer will portray a nanny hired by the Masters family as a result of the birth of their first child.
While Palmer is most notably known for her work on children's programming like Winx Club and True Jackson, VP, the actress and singer has also appeared (as herself) on Degrassi: The Next Generation in addition to a multitude of performances as an R&B musician. Some of which likely resulted in her landing the role of Chilli in the TLC biopic CrazySexyCool that aired on VH1 in 2013.
As for Brandt, the role is not her first since she wrapped up working with Heisenberg. Previously, she appeared on NBC's low-rated (and likely to be cancelled) comedy, The Michael J. Fox Show. There she played Fox's wife and mother to their two children.
For those uninitiated into the brilliant world of Masters of Sex, the Emmy-nominated freshman drama based on the Thomas Maier book of the same name — translated to television by Michelle Ashford. It follows the work of pioneering sex scientists Dr. William Masters and his conspirator Virginia Johnson. Their work outlining the biological response of the human body to sex ultimately led to the sexual revolution of the 1960s, including the rise of feminism. But their work was not all, shall we say, by the books. Adding to the mystique of the duo was their incredibly complicated working relationship. As two confident people with determination, ambition, and ego in equal measure, their work together transcended time at the office and ultimately led to scandal, intrigue, and more than a few controversial hiccups along the way.
Though no return date has been announced by Showtime, it is likely that Masters of Sex will return in the fall after an incredibly well-received and critically acclaimed first season. In fact, here's a scene from season one to whet your appetite. Because everybody wins when you watch good television.
Your Daily Blend of Entertainment News
Your Daily Blend of Entertainment News
Thank you for signing up to CinemaBlend. You will receive a verification email shortly.
There was a problem. Please refresh the page and try again.