Breaking Bad's Giancarlo Esposito To Appear On ABC's Once Upon A Time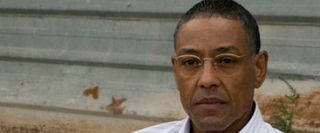 Since I missed last night's fourth season premiere, I was trying to avoid as much Breaking Bad related news today as humanly possible and, surprise, surprise, I failed. Apparently, Gus, played by Giancarlo Esposito, perpetrated a particularly vicious (and viral) act with a box-cutter last night in what is already being deemed one of the more viscerally violent death scenes of the year... and it's only the first episode! Well, it's a good thing Giancarlo secured his BB legacy because it seems he's moving on to a role in Once Upon a Time.
Esposito has just signed on for a recurring role in ABC's new fantasy drama, Once Upon a Time which stars Jennifer Morrison, Ginnifer Goodwin and Robert Carlyle. The show was created by Lost executive producers (which really means writers) Adam Horowitz and Edward Kitsis and uses a parallel fairy-tale world which finds most of the actors doing double duty... meaning most of the cast will have to portray characters in both the real and fantasy worlds. And, as TVLine notes, Esposito's role is no different,
I guess Esposito better get used to hearing the words, "mirror mirror on the wall, who's the..." well, you know the rest. There is no word yet on whether this spells (get it?) the end of Gus' run on Breaking Bad or if, because of AMC's different shooting schedule, he'll be able to continue scaring the crap out of us while hacking up his assistants. So, we'll have to wait and see what BB has in store for Gus, but you can definitely catch Esposito on Once Upon a Time Sundays on ABC at 8 p.m. ET, beginning Oct. 23, 2011.
Your Daily Blend of Entertainment News
Thank you for signing up to CinemaBlend. You will receive a verification email shortly.
There was a problem. Please refresh the page and try again.