Brian Williams Email Blasts Lana Del Rey, NBC Tries To Cover It Up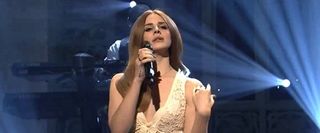 NBC is scrambling to cover up anchorman Brian Williams' comments about this weekend's SNL musical guest, Lana Del Rey to the media blog Gawker. While he's not the first to blast the singer's performance, his email to Nick Denton over at Gawker that was published on the blog sent the NBC PR machine into motion, a move that backfired pretty badly.
Apparently Williams and Denton are buddies, and after Del Rey's obviously nervous and well below SNL standards performance this weekend sparked criticism from all corners, including a wave of complaints across Twitter, which included tweets from actress and singer Juliette Lewis, Williams was wondering why Gawker didn't join the chorus. So he sent off an email to Denton, in which he referred to Lana Del Rey as a "Brooklyn hippster [sic]," who had "one of the worst outings in SNL history last night," that wound up being
[[ ahref gawker.com http ]] published right on the blog, much to the consternation of NBC. But not only does Denton apparently not care what NBC thinks, he added fuel to the fire by posting their email requesting that he remove the post.
Brian Williams opinion clearly carries plenty of weight, because Gawker did just what he asked, posting a commentary on the performance. They even offered the singer a little comfort – at least she wasn't caught lip-synching like Ashlee Simpson, and everyone will soon forget. Except maybe not, thanks to Brian Williams.
Didn't see the performance? Enjoy the awkwardness of what Brian Williams calls the "least experienced musical guest in the show's history". And that's saying a lot, SNL has been on the air for a long time.
[[ ahref gawker.com http ]]
Your Daily Blend of Entertainment News
Thank you for signing up to CinemaBlend. You will receive a verification email shortly.
There was a problem. Please refresh the page and try again.