Brotherhood's Blake Masters Brings Line Of Sight Pilot To AMC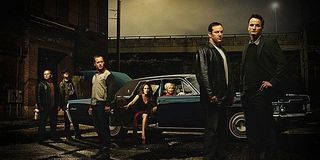 AMC has ordered another pilot. This time it is a sci-fi drama from Brotherhood's Blake Masters called Line of Sight. The pilot will follow a man who survives a mysterious plane crash, and is described as a "genre-bending odyssey" that combines traditional drama with sci-fi and thriller elements.
The central character in the plot is Lewis Bernt, a National Transportation Safety Board investigator whose world falls into chaos and paranoia as he tries to understand what happened to him during the fateful crash. THR says production on the pilot will begin later this year, and quotes AMC exec Joel Stillerman as saying the project is "genuinely unexpected and unconventional." It sounds like the kind of project that can only live up to that promise with the right actor in the lead; casting for the role of Lewis will be vital to the success of this one.
Blake Masters will be serving as writer and executive producer on the pilot. In addition to Brotherhood, he also wrote for Law & Order: LA and penned the screenplay for the upcoming action movie 2 Guns starring Denzel Washington and Mark Wahlberg.
Line of Fire joins a few other pilots in the works at AMC, including the 80s computer boom drama, Halt & Catch Fire, starring Lee Pace, as well as the American Revolution drama, Turn. Hopefully one of the new pilots will help the network to replace its hit Breaking Bad, which airs its final eight episodes this summer. We'll keep you updated on casting news for this new pilot.
Your Daily Blend of Entertainment News
Thank you for signing up to CinemaBlend. You will receive a verification email shortly.
There was a problem. Please refresh the page and try again.