Bruno Mars' Sisters' Reality Show The Lylas Coming To WE TV This Fall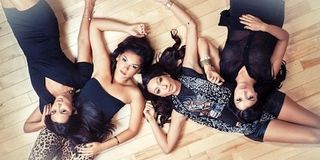 Earlier this year, we learned that Bruno Mars' sisters, who make up the singing group The Lylas, were going to star in their own reality TV show in development for WE tv. This week comes official word from the cable channel that the series, titled The Lylas has been picked up and will begin airing in the fall.
While Bruno Mars has been tearing up the charts with songs from his album Unorthodox Jukebox, WE tv has been developing a reality series for his beautiful and vocally talented sisters, who make up the pop band The Lylas. The show will have the four sisters - Jaime Kailani, Tiara, Tahiti and Presley - leaving their home in Hawaii and setting for for Los Angeles where they'll live together and work on their debut album.
The family element added to their shared musical goal could prove to make for an interesting reality series, especially if their album turns out to be a hit. This project follows TLC's brief series, Totally T-Boz, which was about TLC (the group)'s Tionne Watkins moving to Los Angeles to restart her music career. And last year, the Wilson Phillips trio starred in their own show, Wilson Phillips: Still Holding On for TV Guide Network. While both of those shows were music-focused, they were also about comebacks in a way, where as The Lyla's may be just about to get their first taste of the mainstream spot light.
Based on this video of them singing "Come Back," I'd say they have what it takes, but time will tell. The Lylas isn't the only recent series to focus on music.
TV Guide says the show will air on Friday nights, starting in the fall. And it'll consist of eight hour-long episodes.