Buffy's Spike To Join Torchwood And BSG Alums In New Syfy Series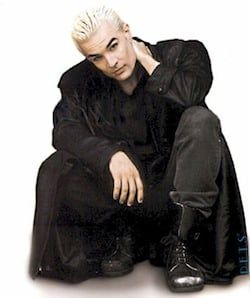 Buffy, Torchwood, and BSG fans rejoice, because pretty soon you'll get to see actors from these three television shows come together for an all new superhero genre show for Syfy Channel. James Marsters, best known to Buffy fans as punk rock vamp Spike, announced via Twitter that he will play the role of Troy, leader of a gang of superheroes with substandard powers, in Syfy's new series Three Inches.
The show revolves around "a man named Walter who gets struck by lightning and finds he can move objects with his mind - but he can only move them three inches. He is then recruited into a superhero gang full of people with similarly lackluster powers."
According to Deadline, Marster's will be joined by fellow Torchwood alum Naoko Mori and Stephanie Jacobsen of Battlestar Galactica's "Razor". Jacobsen, who is also known for her role as Jesse in Terminator: The Sarah Connor Chronicles, will play Watts, a character who can manipulate people's emotions, while Mori stars as a woman who can duplicate any sound she hears.
The project was previously announced in a March press release with the pick-up of a 90-minute pilot episode and Syfy executive Mark Stern said that the show will be, "a fun, smart, off-beat spin on the superhero genre."
Superheroes seems to be a popular genre choice for television shows and Three Inches doesn't sound all that unique, however, there's a good chance that with an awesome writing team behind the series, it could turn out to be fun.
Your Daily Blend of Entertainment News
Thank you for signing up to CinemaBlend. You will receive a verification email shortly.
There was a problem. Please refresh the page and try again.