Burn Notice Will Be Back Again And Again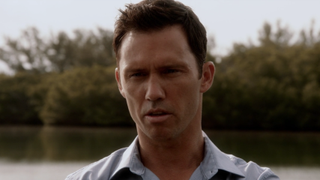 (Image credit: USA)
It might be time for a new installment of Saturday Night Live's favorite new game show, What Is Burn Notice? Clearly a lot of people know exactly what it is, because it's still one of the top-rated shows on cable, and USA just renewed it for two more seasons, as reported by The Hollywood Reporter.
Actually, the premise is somewhat straightforward. Main character Michael Weston (Jeffrey Donovan) as a government spy who is burned, essentially his entire existence is wiped from the world as if he never existed. He winds up in Miami, where he learns that he can stay alive as long as he stays in Miami. The why of it all is part of the larger mystery, but for the most part it's about having fun in the sun as a private investigator/soldier-of-fortune/whatever-you-need guy for hire.
A lot more has happened than that, but fans of the show are fanatical about it and already know everything they need to. Burn Notice is coming back next season, and the season after that. Two season pick-ups are incredibly rare for scripted television, but it's a testament to the astonishing ratings strength of Burn Notice, which reaches between four and seven million viewers each week.
Those ratings surpass several broadcast network series during the regular season, much less during the summer when Burn Notice has been airing. At the forefront of the growth of original cable programming, it looks like USA is letting their fans know they believe in the show, so you should, too. Maybe push those ratings over 8 million this summer.
Your Daily Blend of Entertainment News