CBS' The Early Show Changes Names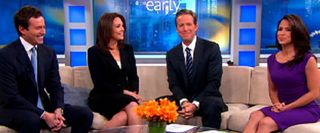 CBS normally gets sick ratings for its programming. However, the network is notoriously known for its low-ranking morning programs. Whether you blame it on not getting hosts to stick out (or stick around) or blame the early morning programming on not having a lasting name, CBS just cannot get its early morning ratings together. Now, it looks like CBS' The Early Show will soon be out of commission, too.
Logically, CBS has decided to return The Early Show to a former moniker that also didn't work out. As of January 9, The Early Show will go back to being known as CBS This Morning. The cast will also be adding one new correspondent, John Miller. With rock bands reuniting of late, etc. the nostalgia thing is back in, so maybe CBS is hoping we'll have some fond memories about their 90's morning programming format. You can check out the official press release over at Deadline.
Gail King and Charlie Rose are headed on board in early 2012 and will focus on hard morning news, which is certainly a different take on early daytime programming. The whole name change thing sort of aligns with CBS' new plan to shake things up a bit. Despite CBS's early morning history, I hope it works out for them. I just have to wonder if returning to an old name is really the best move. It's certainly chancy.
Your Daily Blend of Entertainment News
Thank you for signing up to CinemaBlend. You will receive a verification email shortly.
There was a problem. Please refresh the page and try again.