CBS Greenlights Modern Sherlock Holmes, New Legal Drama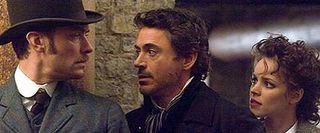 CBS gave the greenlight to two drama series this morning, giving pilot orders to a new legal drama and a modern take on the classic tales of the world's most famous sleuth, Sherlock Holmes, who recently made a return to the big screen in the Robert Downey Jr. starring sequel to the 2009 film. These mark the first drama pilots ordered by the network this season, as reported by Deadline.
Elementary will bring Sherlock into the modern era and relocate him to New York. The series is being written by Medium alum Rob Doherty. It will be interesting to see how Holmes and the famous cases he takes on adjust to new surroundings in the United States. With two big screen adventures and the BBC heading into the third season of their series, Sherlock on strong ratings it does seem that that man in the the famous hat, overcoat and pipe is still at the top of his game, and CBS it seems wants in. The BBC series' second season is set to hit American TV later this year on PBS Masterpiece.
Also given the greenlight today is a legal drama called Baby Big Shot which will tell the story of an underdog in the Manhattan legal world. The female lead is described as a working class gal trying to make it in a fast-paced, high-powered law firm where she uses the lessons of the streets to keep up with upper-class colleagues. Girl from the wrong side of the tracks makes good in Manhattan? Not exactly original, but we'll have to wait and see if CBS can put a new spin on it. Dana Calvo from TNT's Franklin & Bash is writing the series.
Your Daily Blend of Entertainment News
Thank you for signing up to CinemaBlend. You will receive a verification email shortly.
There was a problem. Please refresh the page and try again.