The CW 2013-2014 Schedule Moves Supernatural To Tuesday, Saves Sci-Fi For Midseason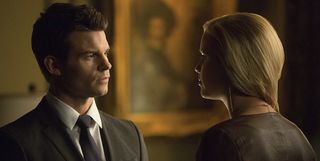 Last among the major networks to unveil their 2013-2014 schedule is The CW. The network has moved a few things around in the new season, in an effort to make room for new series, which include The Vampire Diaries spinoff The Originals, action-adventure drama The Tomorrow People and the new historical drama about Mary, Queen of Scots, Reign.
The CW confirms that Nikita's final season will consist of six episodes, though the premiere day and date for that has yet to be determined. Meanwhile, Supernatural has moved to Tuesdays, while Hart of Dixie is set up on Monday and The Carrie Diaries has been shifted to Friday. Here's the schedule for the fall.
Set to debut during mid-season is alien teen drama Star-Crossed and sci-fi series The 100. The latter series is set in the future where 100 juvenile prisoners are exiled to an abandoned earth to test whether or not it's habitable for humans. It's exciting that the CW is venturing into sci-fi, but it looks like we'll have to wait until midseason to see it happen. In the meantime, The Tomorrow People is the closest thing to the genre on the network this fall, centering on a guy who learns he's one of the "Tomorrow People," a generation of humans that are the next evolutionary leap of mankind, born with paranormal abilities that include being able to teleport and speak telepathically. While that one sounds a bit sci-fi, it also seems to lean toward the likes of Arrow in terms of the super-power aspect. So it's fitting that the series should air immediately following Arrow on Wednesday night. And it's especially fitting when we consider that TTP stars Robbie Amell, cousin to Arrow star Stephen.
And The CW's next attempt at a reality series, Famous in 12 - which attempts to make people famous in 12 weeks - will also premiere during midseason next year.
We'll hopefully have some videos to show you later on, after the CW does their upfront presentation. So be sure to check back in with us. In the meantime, check out the schedules and trailers for NBC, CBS, ABC and Fox here.
Image 1 of 5
Image 2 of 5
Image 3 of 5
Image 4 of 5
Image 5 of 5