The CW Buys Alien Drama Oxygen From The Good Wife Writer Meredith Averill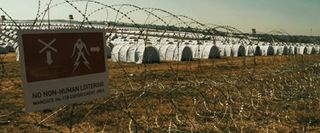 The CW has bought a brand new project. In many ways, its teen-oriented story will be like plenty of the network's programs in the past. This time around, however, the network has bought into a little science fiction with Oxygen, a project that will focus on a romance between a human and her alien beau.
Oxygen is being described as a drama similar to the 2009 flick District 9. Like District 9, an entire group of aliens have made contact with the Earth, but unlike the flick, the aliens and humans involved will be working to move away from forced segregation. If the project goes to series, it will follow a group of alien teens who will be joining a regular American high school, where an unlikely romance will bloom amidst interspecies strife. According to Deadline, the project was written by The Good Wife's Meredith Averill and will be produced by the production companies Space Floor TV and Ole, with Scott Rosenberg, Andre Nemec, Josh Appelbaum, Richard Shepard, Sean Furst, and Bryan Furst attached.
I'm not sure how I feel about the aliens-among-humanity plotline, but I do think it sounds better than The CW's other potential science fiction projects. These include the network's "maybe" midseason option, The Selection, about a contest for queen of a war-torn country set 300 years from now, or the potential TV adaptation of the famous book Battle Royale, about kids forced to harm one another in violent ways (that will have to be dulled down and made less colorful if the project goes to the network). TV Blend will keep you posted if Oxygen gets a pilot order.