CW Casts Stephen Amell As the Lead In Arrow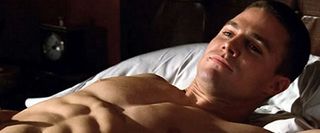 The CW has made a big casting decision, choosing the lead for their pilot based in the Green Arrow comic book character. The project, which is titled simply Arrow, is pretty big news this pilot season and this is a casting that has drawn plenty of attention. So who will fill the super hero's green tights?
Deadline reported today that the lead role has gone to Canadian actor Stephen Amell, who is fairly well known to CW viewers. He has guest-starred on two of the network's other shows: The Vampire Diaries and 90210. He's also had recurring roles on Hung over at HBO and ABC's Private Practice. Amell was recently in serious consideration for a role on Spartacus where he would have replaced Andy Whitfield. Instead he will step into a different role, as a superhero.
Arrow is a modernized version of the DC Comics character's story. Amell will play Oliver Queen, a billionaire playboy and politician who moonlights as a hero in a green Robin Hood-esque costume and uses a combination of archery, martial arts and technology to fight crime. It's not the first time the CW has had the job of casting an actor to play the Green Arrow; the role was played by Justin Hartley on Smallville previously, so Amell is sure to face some comparisons from fans of the series. And of course he'll face the scrutiny of comic book lovers as well. But if the project goes on past the pilot, this has the potential to make a star out of him.
Your Daily Blend of Entertainment News
Thank you for signing up to CinemaBlend. You will receive a verification email shortly.
There was a problem. Please refresh the page and try again.