The CW Orders Three Pilots Featuring Aliens And The Queen Of Scots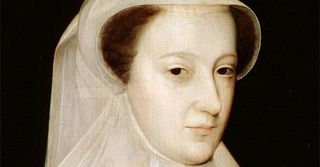 The CW is going forward with its post-apocalyptic Lord of the Flies-esque drama The Hundred, giving it a pilot order. The network also ordered pilots for the Mary, Queen of Scots project the CW has been developing and a teen alien and human high school romance drama.
EW says the CW has given the greenlight to The Hundred, Reign, and Oxygen, all high-concept dramas that seem to be deviating from the network's usual fare, except in that they all feature teenagers. Based on an upcoming series of books by Kass Morgan, The Hundred follows a group of juvenile delinquents who are sent to "investigate the possibility" of repopulating the Earth nearly a hundred years after nuclear war destroyed humanity. Why anyone would choose juvenile delinquents to get the human race going again on earth I can't begin to guess, excepting the fact that they are expendable in case of failure.
Reign is a period drama that tells the story of the teenage Queen of Scots, who has been sent to France where she is being raised in the French Court and betrothed to the young Dauphin, Prince Francis. It's a part of Mary's life that has been rarely placed under the microscope, and the description promises "fierce foes, dark forces, and sexual intrigue". Sounds like a teen version of The Tudors, but set in France.
The last pilot order, Oxygen, is about a group of aliens who are integrated into society – in high school of course – after being held in an internment camp for years. One of the alien boys falls for a human girl, which unsurprisingly causes all kinds of drama.
These three join another fantastical high-concept drama, The Selection, which has a sort of Hunger Games feel to it, on the CW list of new potentials. It should be interesting to see which of these make it to the network's lineup.
Your Daily Blend of Entertainment News
Thank you for signing up to CinemaBlend. You will receive a verification email shortly.
There was a problem. Please refresh the page and try again.