Catherine O'Hara Joins Fox Pilot To My Future Assistant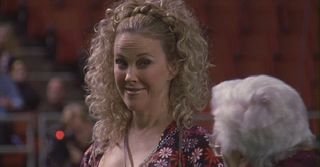 Fox's comedy pilot To My Future Assistant has booked a big name for a leading role. Emmy winner Catherine O'Hara has signed on for the pilot in the role of a successful lawyer at the New York law firm where the show takes place.
O'Hara will play a character called Magda, who is described as a very put together and accomplished woman whose friendships with others are not often sincere. Deadline says Magda will be one of a group of overbearing bosses who make life difficult for the main focus of the plot, which follows the assistants who work in the legal firm (and must stick together to survive). The single-camera pilot is based on the blog and upcoming book To My Assistant by Lydia Whitlock and is written by Sherry Bilsing-Graham and Ellen Kreamer.
Catherine O'Hara's long career spans both film and television, but she made her first big impact on the small screen with the classic comedy sketch series SCTV, a show that featured other comedy greats John Candy, Eugene Levy and Shelley Long. It's successor, SCTV Network won her an Emmy for comedy writing. Additionally, she nabbed a second Emmy for acting in the TV movie Temple Grandin in 2010. She has also been one of Christopher Guest's repeat performers in his quirky films including Best in Show and A Mighty Wind. So far I haven't seen her named among the familiar faces in Guest's new series Family Tree, but it wouldn't surprise me if she turns up there, as well.
O'Hara is the first casting news for To My Future Assistant, and it's definitely a strong first move. We'll keep you updated on what actors and actresses are tapped to join her.
Your Daily Blend of Entertainment News