Cee Lo Green Developing A Comedy For NBC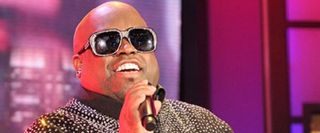 The Voice mentor Cee Lo Green is making a move into scripted television with a new comedy project that will be loosely based on his real life. A deal for the multi-camera comedy is in the final stages of negotiations at NBC where The Voice airs, keeping Green in the fold.
Deadline says the comedy will star Green, who will also executive produce, and will be written by Everybody Hates Chris co-creator Ali Leroi. The untitled comedy follows the daily life of a successful recording artist who is also dealing with his personal life, including his ex-wife and children. Green would be making his television acting debut with the show; he's done voices for animated TV programs in the past on Boondocks and Robot Chicken. Other than that, he has mostly played himself on television cameos, including a guest spot on NBC's Parenthood. He did appear in the music-industry inspired film Sparkle, which also starred the late Whitney Houston and Jordin Sparks and is doing a voice for another upcoming movie, Hotel Transylvania.
Green divorced Christina Johnson in 2005 – the duo have one son together and she brought in two kids from a previous marriage. The new project is said to be based on his life, but it's unclear how closely or how many kids the television version of himself will have. He's not the first musician from The Voice to make the move into the scripted side of television. Adam Levine preceded him down that path, working on a comedy with NBC and also landing a guest spot on American Horror Story's upcoming second season. The question of whether either of them can really act has yet to be answered.
Your Daily Blend of Entertainment News
Thank you for signing up to CinemaBlend. You will receive a verification email shortly.
There was a problem. Please refresh the page and try again.