Cersei's Game Of Thrones Nude Scene Cost How Much To Shoot?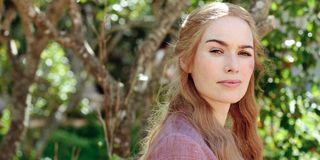 Game of Thrones has been busy shooting Season 5 for quite some time. Still, a couple of months ago, the show was having trouble figuring out how to shoot Cersei's famous nude scene from George R. R. Martin's series. The show is currently on location in Croatia and apparently the local Church Of St. Nicholas was none too pleased to find out an actress would be getting naked and walking the streets of the city. They promptly halted the permits that the Game of Thrones team was trying to get processed. Regardless, this week production continued and Cersei's big nude scene will indeed be injected into the Season 5 plot. You'll never guess how much it cost to make it happen, though.
It took an awful lot of concessions for the scene to move forward. First, the production had to move all the way to the other side of town. Then, the Game of Thrones crew hired 200 security guards to make sure no one caught an inch of actress Lena Headey's naked body. Additionally, local shop owners were paid off so that they wouldn't be in the area during the shoot. Finally, cell phones were confiscated while shooting was underway, with TMZ reporting that only 4 people were actually on hand when Headey made Cersei's famous walk of shame.
All of the extra privacy, security guards, permits and payoffs added up to a lot of money. The scene was shot over four days in Dubrovnik, Croatia at a cost of $50,000 per day. That adds up to $200,000 just to shoot nudity outside. Despite the expensive price tag for a scene without VFX, Game of Thrones is lucky that the scene moved forward and was shot, at all.
Stop reading now if you haven't already read the books. We're getting into spoiler territory regarding the books, below.
While HBO's fantasy drama is known for its nudity, most of that nudity is gratuitous, or simply inserted into the series to show court intrigue, power plays and sexual preferences. However, Cersei's upcoming nude scene is an important part of her trajectory as a character and will come after a series of unfortunate events lands her as a prisoner in King's Landing. The scene is important for numerous reasons. It's a shocking moment in a series that is filled with big moments. It also shows a new side of Cersei, a level of base survival instinct and toughness we would never have guessed were a part of her character. And it gives the audience sympathy for Cersei we never knew we had.
Characters on Game of Thrones get naked all the time. Nudity on the show is usually not an event worth writing about months before a new season is set to premiere on HBO. However, Cersei's penance walk to the Red Keep is extremely important, and we're happy the producers figured out how to shoot the scene for Season 5.
Game of Thrones is expected to return to HBO in April of 2015. Here's everything we know about the new season so far.
Your Daily Blend of Entertainment News
Reality TV fan with a pinch of Disney fairy dust thrown in. Theme park junkie. If you've created a rom-com I've probably watched it.