Chelsea Handler's Are You There, Vodka? Fires Three Actors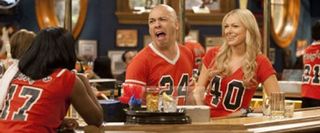 There's trouble in Vodkaville. I'd like to say I'm sorry, but I don't think there is any one woman less funny than Chelsea Handler. Even my lit teacher in 2006, who cracked jokes about Ferdinand de Saussere out of nowhere, without smiling, at least created some unique material. I digress, and actually, the problem with the new program based on Handler's book, Are You There Vodka? It's Me Chelsea, has nothing to do with Handler herself. Unfortunately, this isn't a cancellation notice and Are You There, Vodka? will still be a show, but the program will be sans Natalie Morales, Angel Laketa Moore, and Jo Koy.
Apparently, the trio have been let go for creative reasons. Morales was set to play Handler's best friend, and Koy and Moore were to work at a sports bar. Now, the roles are being completely rewritten. According to TV Line, the series isn't slated to premiere until midseason, so Are You There, Vodka? has time to figure out where it is going.
I haven't read the biographical book Are You There, Vodka? is based on, but if it's true to the stories in its description, a lot of this fodder should be pretty tame. Sadly, we won't get to see lead Laura Prepon as Handler release a comedy tape with her fucking in the middle of it, or watch her get cozy with some high-ranking television producers and then have a couple of failed television programs, all before finding success on late-night E! It may be classless, but that would be a struggle more compelling than anything on Jersey Shore. NBC should think about it.
Your Daily Blend of Entertainment News
Your Daily Blend of Entertainment News
Thank you for signing up to CinemaBlend. You will receive a verification email shortly.
There was a problem. Please refresh the page and try again.